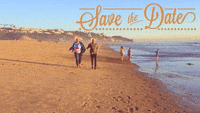 Yes my dearest peeps and meeps, my brother and his fiancee have already set the date!
They were engaged on Saturday, announced to family Sunday and to Facebook on Monday. Wednesday before lunch I had an email in my inbox with the date!
March, 20th, 2022
You did not read that incorrectly, in less than 4 months my brother will be married.
It's on a Sunday at 3pm at a bakery in a small town outside of Ottawa. I think maybe close to where she grew up? It honestly could be her mother's bakery.
I asked if I had to calm down my dreams of being best man/groomsman and I was told they would not be having traditional bridal parties. They will be having a witness each and that's it. SO my brother is asking his VERY close friend who lives in Halifax to be his witness, so if he can come then he is the witness.
Of course, every single person I told was like "is she pregnant?!" And I almost asked my brother myself until I remembered who my brother is and how that is very much not even close to a possibility. But I'm sure everyone will be thinking it. But they are 36 and are both waiting for marriage and I understand the rush to get married. She also wants like 3-4 kids and at 40 will be getting a hysterectomy due to family ovarian cancer history.
I have already rented a car for the weekend and I also discovered it is the very last day of my Spring Break. So I have the whole week before to help them if they need it. But since it's on a Sunday, I will have to work the next day and it is not a possibility to take that day off work. As a teacher of a school with zero supply teachers, we have to keep our holidays to the actual holiday schedule.
So yes. There's the news guys…