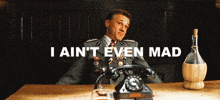 Look – I talk a mean game. I mean, I gotta. I'm sometimes my own hype woman and that means that sometimes I gotta hype it up. And for Paul's Captain's Quiz, I will HYPE it up! Cos Paul deserves all the hype for keeping us all entertained.
We just finished the 4th installment and so far here are the winners:
Me
Me
Not Me
Not Me
So I think I'm allowed to be a little bit cocky over the quizzes. I am the only two-time winner after all.
This time around, I'm not even upset about coming in 3rd. I am upset that I didn't get bonus points for making Sabrina giggle (+1), or for the fact that I added pictures to my first answer (+1). And in question 6, it says +2 for being under 2 hours and one of my answers WAS under 2 hours so why don't I get both bonus points?! HUH PAUL!?! (+1) And in bonus question #3, the hippo onesie IS a costume PAUL, it was sold on a rack for Halloween costumes, a few days before Halloween and came with accessories to make it a dancing princess hippo and was bought for the sole purpose of going trick-or-treating (+2).
My new total is 103 points, which still puts me in third place. Which is respectable.
I don't really like Halloween. I like that I can do cute things with my students and I like that big boxes of chocolate will be on sale the next day, but I am not really a fan of anything else about it. Especially as an adult. It's just not my thing. So I didn't expect to do well on this quiz.
That being said, I am still not giving up my crown. As the only person to win The Quiz two times in a row, I will not give it up until someone can beat that. So the first person to get 3 in a row can have my crown. It's only fair.