Aaron's word of inspiration this week is milkshake.
This is what I think of instantly when I hear the word "milkshake"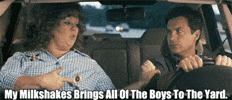 And I think, since this is such a highly played song, you probably think about it too.
Of course when I am finished singing the chorus in my head for about 30 minutes, my brain is allowed to think about other things (but let's be real, Imma gonna be singing this in my head all day). And when it does, I think about my favourite milkshake.
My favourite milkshake is from an Ottawa-based eatery called Zak's. Now they have two names, Zak's Cantina (in Byward Market) and then Zak's Dinner which has a few other locations.
I first was introduced to this place in the market, my brother took me there and from then on it's all I can think about! Zak's is like a 50's style dinner and it's not all pristine. And that gives it the charm that I love. They aren't trying to be pretencious or fancy. They do simple and good food.
And their milkshakes are the best! Just like regular ice cream and good old sugar filled flavoured syrup! I only get strawberry. And don't even TRY to put a real strawberry in it! Just give me an old fashioned dirty milkshake and I am a happy happy girl!
I will HOPEFULLY be getting one of my milkshakes today. I am going to church for the first time since February 2020. My brother is going to meet me at his church and we will go together. And maybe I can convince him to get Zak's after the service since he chose to go to the late morning service. We will get out at lunch time. Perfect for a trip to Zak's!
But until then, here is a better description of my milkshake philosophy.