The topic that Aaron has chosen for us today is occupation.
I have had many jobs in my life, but what really counts as an occupation? Is it just what you tell the government on your tax forms? Only when you're past a certain age or level of schooling? What makes a job turn into an occupation?
For most of my adult life, I have worked with children. I didn't set out to do that, I started university wanting to be a human rights lawyer and then wanting to work for an NGO, but after I graduated, God had different plans for me.
In childcare, I have been an ESL teacher in South Korea (twice), a supply teacher in Ontario, a nanny in Ontario, and now a licensed and full time teacher at a private school here in Toronto. It is definitely not what I had pictured for myself, but God knows my strengths and here I am, loving my job with every ounce of my heart and I am really happy! I am so blessed.
Have I had other aspirations? Of course! Growing up, like most little girls, I wanted to be a ballerina. My dad used to go away on business trips and bring back little gifts for me and my brother. Thankfully, he nurtured the love of reading in our house, and he bought me this one book, about a girl who wanted to be a ballerina and the book came with a necklace! It's called The Silver Slippers.
Then I wanted to be a figure skater, and guess what I got when he went on a business trip!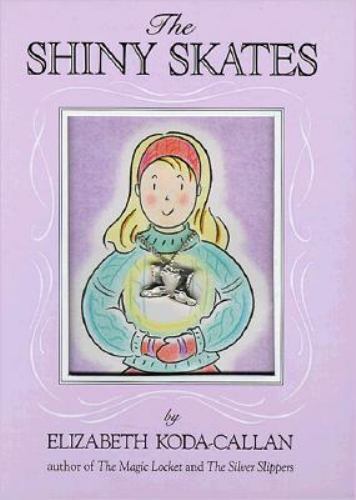 The books are long gone, I literally had to google "late 80's childrens book, ballet slippers with necklace" to even find them. I have added them to my amazon wish list so that I don't lose them again haha.
While the books are gone, the memories are still there, I can see the pictures vividly in my mind from the books I haven't read in about 25 years. It helps that I was smart enough to keep these:
Proof that I had the books, and the dreams. I didn't think I had them at all! I knew that the last I saw it, I only had one skate, so yesterday morning I went to my jewelry box and started pulling out one drawer at a time until I found them! In a small blue box my mom used to use for her cross stitch business. Selling jewelry that she would stitch little designs into.
I have that little bracelet with the purple flower. The clasp is broken but I can't part with it. Also in the box, the charm from a necklace my uncle (my mom's only brother who was 21 years older than her and basically a grandfather to me) gave me when I was baptized. Three earrings – the first set I ever had (the small ball) which one popped into my earlobe when it got infected and I had to have it surgically removed, and then one lonely gold heart with diamond chip in it. The last one, the bar that is on it's side, came on the most delicate gold chain which is gone, but I'm pretty sure it has real diamonds down the length of it.
My little box of broken and miss-matched things. A little box of memories and first aspirations for my occupation.