Last week was a disaster! How did my second attempt work out?
Peep and Meeps, last week I gave you some of the steps to my first attempt at giving myself fake nails. It's been something that I've wanted to do for a while and was so stuck in wanting acrylics that I didn't consider gel. Now I am like, why not?! Why was I so stubborn?!
The Poly Gel kit that I bought from Gershion on Amazon is amazing. And so easy for beginners. I'm not getting paid for this, it's just my opinion. Sure the kit is designed for you to use their poppit system, which I honestly didn't like at all, and was really upset last week when they turned out so nasty and then I had to soak the nails off the same day I put them on.
The next day, I decided to use the sticker forms instead. It was a lot for my nails all in one weekend. If it didn't work out, I knew I'd have to just leave the nasty nails on for a while to give my skin a break from all the filing and soaking in 100% acetone. I was not excited about that prospect but I was already into the process and I didn't want to give up on it.
So last Sunday, I set myself up again and took the plunge! And I am so happy I did!! My nails turned out great!
Now the video is sideways, I'm sorry. I have realized that using "clips" on my iPhone means that I have to use it straight up and down and not on it's side. THAT'S what I was doing wrong the whole time. But whatever. I have learned and will fix that in the future.
Here is my video on how I used the nail sticker forms to make my nails. Again, I'm sorry it's sideways.
As you can see from the thumbnail for this video, the nails are soooo thin! I loved it! I did make them a little too thin and had some structural issues this week, but that's ok! It just means that I am learning and growing as a person in this hobby of mine.
For those who aren't going to watch the youtube video, here are the steps from photos I took.
I still need some practice with the filing and shaping, and only two nails broke this week (more on that in my next post) but I am so happy with them!
The poly gel is really easy to work with and I love it. If you read my post yesterday, you'll know that this will be my last Nail Art Sunday post. I am going to be posting whenever now, since I am working a lot with my nails and already have one more post ready to go, and I'll be doing a video this afternoon for yet another one.
As if I didn't need any other reason to feel love for myself, having fake nails has brought on a whole new level of swag into my life.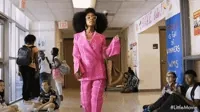 I regret nothing.
New video and post coming on Tuesday!