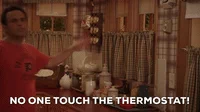 How does your house decide on the thermostat settings? Where I live, it's decided by the Crazy roommate. He decides where he is comfortable and then everyone else needs to fall in line.
But the only thing is that we live in the basement apartment. So we are generally much cooler than the rest of the house, and hardly ever humid at all. For the most part, it is very pleasant down here.
But we are not the only people who live here.
When I moved in, the guy I share the basement space with told me that the temperature was agreed on by the people upstairs and the ones down here. Upstairs is always warmer than us, but they were ok with the temp and that it was a mutual agreement. How naive I was back then to think that they had all agreed upon it, when now I know that it was basically he set the temp where he is comfortable and no one else is allowed to change it.
Now there are new tenants are upstairs. They moved in there in January and a few times the thermostat was lowered but we just put it back up because it really was way too cold down here. Since March, I have been getting pretty close to the people upstairs and I like them a lot. I am tutoring their daughter and go up every day, and get invited to hang out in the back and have bbq's and last night there was even a small bonfire.
But upstairs in the summer is HOT. I have no idea how the people last summer dealt with it. The wife was pregnant, they had two small children (3 and a year) already, and it must have been feeling like 30-35 degrees all summer long. The new tenants told me it was so hot up there all winter and that they had their windows open just to be comfortable. Something I didn't know!
Now, the new tenants are a lot more vocal than the last ones. They have two older children (7 and 13) and the wife is pregnant. And this heat is HORRIBLE up there. I have been dropping the temperature by one degree for them for a while and that caused a little bit of a confrontation about a month or so ago but then a calm conversation happened and it was fine. That during the super hot days, the temp would be dropped for a few hours and then raised again. It's literally just one degree – from 21.5 to 20.5. Sure it's a little on the cold side down here BUT it goes from suffocating to very pleasant just from that one degree.
Once that conversation happened, it seemed to be going ok. My roommate would even do the changes himself. But this week has been a struggle. The mom is almost in her third trimester and is very uncomfortable with the heat and humidity. And every single day this week has had a heat warning. We are reaching temperatures of 30 degrees and that's not ok with living up there.
I'm not sure what has changed since Saturday, but now the thermostat is always changed back. I have personally changed it 3 times today. I went for my walk this morning and when I got back it was starting to get humid. So I dropped it the one degree. I heard him come out of this room and then go back, and when I went for tutoring and it was up again so I dropped it. I came back down an hour later and surprise!! It was up again, so I dropped it again.
I really hate being in the middle of this but I'm also so annoyed at this guy for not making any compromises for other's health and comfort. At the start of all of this he was saying that the upstairs tenants aren't the only ones who are living here and that he deserves to be comfortable as well and that I could email the landlord to see what it was last summer. This is not an issue for the landlord. This is something that should be an easy compromise for the tenants. And while he is right, the people upstairs aren't the only ones living here, they should also expect to be comfortable. We live in a basement and we should understand that it is going to be cooler down here.
I have shown the mom how to change the thermostat, and it sucks that the one that controls it is in the basement but that's what we have to deal with. It used to be controlled upstairs but then it got switched to a basement control. She texts me to put it down when it gets too hot up there, and I do, I don't like doing it because I don't want to be in the middle of things, but I do. Up until today it seemed to be working, but now it's just ridiculous I think. Having to change it 3 times in just a few hours….
What would you do?