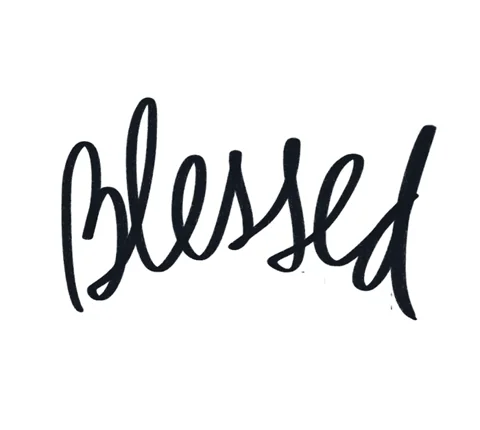 It's been a crazy insane two weeks of online lessons for me and I have been drowning. I've been griping, and complaining and whining, and mocking parents to other teachers. I have been gossiping about my roommate and the people upstairs as they get themselves into a legal battle. I have been pouting over having to cancel my birthday plans and not see certain people.
But ya know what, I need to change my thinking. I need to turn it, and walk a different path. So here I go:
I am so blessed.
I am blessed that I get to wake up in a warm house in a dry place and know that I have food and coffee waiting for me as soon as I walk into the kitchen.
I am blessed that I have all my physical needs provided for – I don't have to worry about toilet paper or Kleenex right now. I don't have to worry about tampons or my allergy medication. I don't have to worry about clothing or shoes or even having my wig to wear.
I am blessed that I have a phone and a laptop that I can do work and writing and keep in contact with my friends and family.
I am blessed that while my job is traditionally done in a building, and it is very difficult and frustrating to do at home, I am still working and getting paid my salary. I am blessed that I have access to the internet to make it easier. To technology to make it easier. To all the resources I need to make it easier. For me, for my students, and for their parents. I am blessed that I work with amazing people and they are supportive and helpful and loving. I am blessed that the parents of my students have been so encouraging and supportive.
I am blessed that my family is safe. That the ones who aren't retired still have their jobs. That my retired parents live in a small community where exposure is low and they are being safe and smart about when they HAVE to go out. I am blessed that I didn't make the choice to go home when I could have and quite possibly could have infected them. I am blessed that I have not gotten COVID-19, nor have I shown any symptoms, even if I might possibly be carrying it.
I am blessed that certain expenses of my life were cut from my budget. That I could cancel my public transit pass without penalties. Yet still be able to use the card if I ever have to go somewhere by simply loading money onto it. That my government issued student loan payments are on hold until September with no penalty or interest.
I am blessed today because my schedule is light enough to post this and relax. And to watch some tv in the middle of the day. I am blessed to have a friend who posted a Silver Linings post this morning which pushed me to write my own!
A friend I work with is also a Christian and she knows my struggles with some aspects of my church right now. She shared a YouTube account for a church she enjoys and this channel has blessed me this week. I have been working through one of the sermon series the pastor has recorded. And even though I feel like a Sunday Christian a lot of the time, I am blessed to have had this shared with me. I'm gonna share it with you too just in case you are looking for the same.
https://www.youtube.com/user/TransformChurchTV/featured
I feel like my feed is just full of all the negative right now, so enjoy some of the positive in my life. Care to share your own?