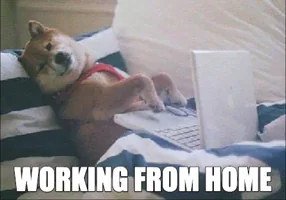 Alright y'all! Let's get real – Toronto has declared a city wide state of emergency, which means all non-essential services will be closed as of midnight tonight. There was a HUGE list posted by the government yesterday that detailed what services were essential. I am already working from home so no biggie.
Yesterday was the first day of "online lessons" for my ducklings. I received a few emails from parents thanking me for all the hard work I was putting in. And two teachers who have access to the grade two google classroom wall were also able to view my lessons since I put the link up on there. They both text/emailed me to let me know how adorable they were and how much I was "killing it". But we all agree we would rather be at school being frustrated by the ducklings than being at home.
Since I prepped all my lessons last week, I'm kind of just chilling for a bit. But I have told parents I am available for emails from 8:30-4:30 so I respond as immediately as possible between those hours.
We were told by the premier that Ontario schools will not open on the 6th (we all kind of knew that would happen) but no return date has been set. So for now we are rocking the at home lifestyle. I am glad that classes are continuing because if we didn't have classes, the parents wouldn't pay tuition and I'd be out of a paycheck and a girl's gotta pay rent and eat!
We are allowed in the classrooms today. They will be open from 10-2 and it's not to socialize but to grab supplies and leave. I'm hoping to find a pencil sharpener on the floor somewhere that I can "borrow" because I have none at my house! I'll also be picking up my hippo coffee mug and my shoes I left there and some books as well. And setting up books for if/when parents are allowed to come and pick them up for their children. My students will definitely need to come since I have three workbooks still at school and we will need them starting on the 6th. On the way home I need to stop and get $20 worth of chocolate and candy and I am hoping some rubbing alcohol so I can get into some nail designs.
Thankfully, this at home business has allowed me to fast-track my math lessons!! I'm a little behind and I will do TWO full units in the next 9 days. HECK TO THE YES! I just doubled up on lessons. A 10-15 minute video covers instruction for two lessons and then BAM do the work pages, watch it back if you're confused, ask your adult to help you, OH PS we have a quiz in two days, your review pages are in our google drive folder!
I am also shocked at the lack of common sense the parents are showing. On google classroom I have posted our google drive link TWICE since Thursday AND emailed it to the student's email. I set assignments on google classroom to appear on days that things are due but didn't include instructions because they are in the google drive lessons. So yesterday's "please submit a copy of your child's journal entry" assignment was referencing the slide which asked for an account of the child's march break activities. And I got some journal entries about a magical tiger, some robots, a chicken that poops bones, and a girl finding a dog in her bed.
They literally had to sign in, ignore the home page with all the announcements, and then go to the assignment page and just be like "hmms journal entry, what is this about? You can write whatever" ADULTS!! START USING YOUR HIGHER LEVEL THINKING SKILLS!
I also got cute messages from students and one parent sent me a picture of her daughter holding up her journal and I legit had to fight back tears because I miss my little ducklings!
And now that I have rambled on for quite some time over basically nothing, I will leave you and start my A to Z posts for today. I'm scheduling L and M today!
How are you holding up? Are you all working from home yet? Is your job considered "essential"? Lemme know in the comments below!