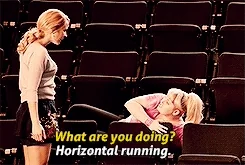 So we all know that about a year and a half ago I started running. It was Thanksgiving 2018 haha which is in October for you non-Canadian readers. I ran until it got too cold, and then started up in the spring of 2019 again. But my knees kept hurting so I stopped. I didn't want to injure myself too badly.
And I hated it you guys! Like legit every single step while I'm running I am basically hating on myself. Why am I doing this? Ugh ok I will run until that driveway and then I'm switching back to walking. Omg everything hurts. This sucks. Who invented running? I wish horrible things upon them.
But then I get done and I feel pretty amazing about myself because I just ran. Like I exercised. Go me!
I never used to be an exercise person. At all. Now that I don't live at home, I am doing it more. I don't have my mom here judging me "why are you exercising? Who are you doing this for? You? Running? Yeah ok…" etc etc.
It's so nice not to have that! Even if I do it to myself sometimes, I just tell myself to shut up buttercup and mind your own business. I can't do that with my mom. But me? Oooo I tell can me to shut up all day long and that girl has just got to take it!
So I haven't been out running since last spring. Basically a year already. And my amazingly bright orange running shoes are just taunting me sitting there on the top shelf of my shoe rack at the end of my bed.
I have decided I need to start running again! Even before this whole "self isolation" thing started. Like a few weeks ago I decided I would get myself ready for running. This is just the perfect time to get it started!
I can't sit inside all day. Like I can. But I wont! Yesterday I decided on a schedule for myself: wake up/breakfast/emails/A to Z writing until 10. Then go outside. I took a walk. Then writing/free time until lunch. After lunch school work until 4pm. Then it's yoga, dinner, watch the news, and then free lazy time.
I think it's good. Until I run out of school stuff to do. I'll cross that bridge when I come to it.
So I tracked my steps today. I did almost 4000 in 30 minutes! The loop I did was recorded as 2.5KM which is about 1.5 miles (or so google conversion says) so it's a perfect loop for when I start running. And it's easy with great sidewalks. This is the loop I'll be doing:
It's nice and easy and I don't have to cross any major roads which is good too. Half of it is in a residential area and half along a main road which is also good. Basically flat, no hills to worry about.
So now I will start to build up my legs and energy and get back into running as the weather warms up! Until then, it's a loop every morning! And possibly one in the afternoon.
Are you starting to exercise more now that it's better weather? How are you building in some fresh air to your day with this self-isolation and social distancing that is happening?