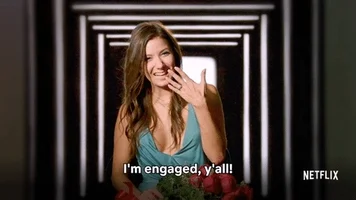 I'm not. Calm yourselves down. Y'all know that if there was someone who I was that serious with, he'd be mentioned a hundred times on here already and there'd be a password post of pictures of us together cos we would be so gosh darn cute.
Have any of you amazing Peeps and Meeps seen the Netflix show Love is Blind? Because I was avoiding it like the black plague. I hate reality dating shows. HATE THEM. But a girl from work, my after-school walking to the corner for the bus buddy, suggested it during our snow day last week. So I tried out episode one.
And I was still like meh. Whatevs. I even told her I'd probably not watch any more of it because I was all meh. Whatevs.
So then she felt free reign to vent some of her frustrations with the show. Which is the only reason why, yesterday while doing a hippo sized mountain of prep for school, I decided to give episode 2 a try. And that turned into episode 3, and 4, and then I finished the ENTIRE THING.
IN ONE DAY.
OMG.
So now since this is my blog and my happy place, I'm gonna vent to you. If you haven't seen the show and want to, don't read any further. There are MAJOR SPOILERS.
I REPEAT!! Okies, let get right into this:
First of all, this idea that love is blind, I kind of like that. Y'all can remember about a year ago, I revealed that I had walked away from my first love. Because I was shattered. And I needed to share that with you but since he was a fellow blogger, I felt I couldn't when it happened six-month earlier. But when I did post, I had healed enough to share in a semi-private way to respect him and what I thought we had. But the thing is, he wasn't even my physical type. Like legit – not my type. Sure he was tall and a man of colour. But that was about it. But because we had bonded over our blogs without ever seeing each other's faces until almost a year after we found each other's blogs, it was like all of that didn't matter. All the other deal breakers didn't matter. I had fallen HARD and it was for his personality. So I totally understand the concept behind this show and personally think that it could 100% work out. Maybe given a little bit more time but ya know what I'm saying lol.
But I want to break down the couples that actually got engaged out of this show because those were the ones that we learned about. I read an article yesterday from another guy from the show saying that the producers weren't expecting so many people to get to the engaged round haha! And some of the story lines had to be cut.
Lauren and Cameron:
Personally, this was my favourite pairing. They were so cute and sweet and we all know how much I love a swirl relationship. Because I have swirl relationships HAHA and I love to see them work out in hopes that my future has the possibility of a forever swirl relationship. According to this article, they are still married because the marriages happened a YEAR AGO!
Amber and Barnett:
Okies, so let me just say, I didn't think this was going to happen. Like when the wedding was there and Barnett was all dramatic and pausing just to add drama, I really thought he was going to say no. I had already seen three of the other weddings up to this point and I thought it wasn't going to happen! Barnett kind of got under my skin at the start just how he was treating the three ladies he was "dating" in the pods at the very end. And even up until the engagement day, he hadn't really picked one of them yet and was struggling between LC and Amber. He had already told Jessica to hit the road (THANK GOODNESS) but yeah. But then he kind of grew on me. I'm glad they got married and that E-News article says they are still together as well.
Those were the only two of the 6 couples to make it to "I now pronounce you husband and wife". Honestly WOW lol so what happened to the other 4 who made it to the Mexico vacation?
Jessica and Mark:
OMG I HATE JESSICA! Like I hate how she used a fake little voice in the pods, I hate how she broke up with Mark and then Barnett dumped her and then she went BACK to Mark and was like "baby baby" and he took her back! I hate how she played Mark and made him feel like crap and how she took off her engagement ring and didn't want to do anything with Mark but then decided to because she wanted to be "authentic" in the experiment. And I hate how she let her dog drink wine from her glass. And how she ALWAYS talked about the age gap between her and Mark and tried to trap him in "what if this thing happened" and how she gets to her wedding day and is all happy walking down the aisle towards Mark and she goes up and kisses him and then stands there and says she won't marry him and then says she will apologize to whoever she needs to but she's not sorry. Like OMG I HATE JESSICA
Mark was sweet. He didn't deserve that treatment and I hope he has found love somewhere else. E-News says they are not together.
Giannina and Damian
I thought this was a toxic relationship from the time they got to the vacation. When the wedding happened I was all "she's gonna say no" and my viewing partner (who came in half way through the "Meet the Parents" episode and had no prior knowledge about it) was thought Damian was going to say no.
Honestly, Damian looked like he was going to hurl all over the place. But he was also like very much into marrying Giannina I was all "He's gonna say yes!" and my viewing partner was like "hes gonna pass out" HAHA
I was a little shocked when Giannina said YES and Damian said NO. The E-news article says that they aren't together but with a question mark at the end? Damian did say in the episode that they just weren't ready for marriage right then. And maybe they just needed more time before getting married. Who knows.
Kelly and Kenny:
This was another one of my favourite couples. They seemed soo well matched until like the second last episode when Kelly admits that she's not physically attracted to Kenny and that she sees him just as a best friend. Their mothers loved each other, their families were so supportive and they all seemed to be one big happy family right away.
On the day of the wedding, y'all knew that Kenny was down for marrying Kelly. He was in. 100000000% he was in. And Kelly got to the front and said no and that she knew he would accept and respect her choice. She left with her sister and he stood there and explained to all the people there that there's so much going on and all this amazing grown ass man things to say when he just got left at the alter. Then he got angry at the camera man for filming him after in the groom's suite at the venue and asking Kenny the stupid question of "do you think that you'll be with Kelly" like how insensitive Jimmy! Turn the camera off! E-News lists Kelly and Kenny as not together.
Carlton and Diamond
Now this was a couple that my viewing partner didn't get to learn about because they were off the show before he started watching.
I kind of feel for this couple. They were all happy and engaged and in Mexico and then after all that Carlton decides to tell Diamond that he is sexually fluid and loves a soul not the physical outside and sexual organs of a person. Obviously she was shook. I would be too. She comforted him in this time of revelation and then took some time to herself.
Like a grown up, Diamond went to talk to Carlton the next day and he kind of verbally attacked her. Like I get that it's a stressful situation and how withholding a secret can damage the balance of trust (it's why I put on my dating profiles that I wear a wig because I had a guy break off all communication because he felt I had betrayed his trust by keeping that from him). They got into a huge verbal altercation and ended in both of them breaking their engagement and leaving the show.
Have you seen this show? Do you have any opinions on the couples or the concept? Lemme know in the comments!