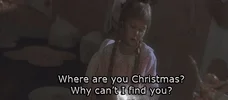 Christmas is always my favourite holiday. I think it always has been. It holds first place with my birthday but apparently I can't say my birthday is a holiday…when it gosh darn should be!
Anyway, this year, I have not been feeling very Christmasy. And I'm not sure why? There could be a few reasons, or a combination of them all, but I'm just not sure and it's got me really feeling down.
First of all, I've been sick and exhausted. Like really, I got to my parents' place Saturday evening and did nothing until a short shopping trip with my brother on Monday (which I could barely lift my feet in my winter boots I was so exhausted) and then church Tuesday evening. I slept 10 hours at night and then had to take a nap in the afternoon. It was both amazing and sucky. I was getting over a cold I've had for a while, and I think I've almost got my real voice back – a sound I haven't heard in about six weeks.
It could also be that it's a green Christmas. Its damp and windy today, and the streets are covered in dirt and salt and sand – not a single piece of clean white snow to be seen anywhere! There are a few small patches of brown gross ice that just hasn't broken up yet though…
Perhaps it's the fact that I only asked for gift cards and I knew that's what I was getting. There was no mystery, no "oooo I wonder what they got me!" when I arrived to the Christmas tree yesterday morning. Or the fact that every year I fight with my brother because he hates the gift aspect of it all and now I feel like that's starting to rub off on me. I'm usually disappointed because my mom decides to get me things she likes, not what I would like – so I'm starting to see his logic in just getting rid of the gifts all together. I tried to start that when I returned from my first contract in South Korea but the idea was no met well.
Or maybe it's that I'm upset over my mom's gift not arriving in time for Christmas? It arrived at an airport in California on December 9th and then didn't get released to Canada Post until the 21st!!! LIKE COME ON! So it's still in transit somewhere, I'm sure it will arrive at my PO Box either today or Monday and then I have to ship it to my mom afterwards. That's super great.
Of course, it could also be the fact that I'm at home for 10 days. Like I was ready to go back to Toronto yesterday. But I'm with my parents until Wednesday. That's the only downfall to coming with my brother – I don't have to rent a car for a whole bunch of days or drive in the snow, but I also don't have control over my travel days. I'm hoping to get a lot of writing done and have some posts scheduled for the new year.
So yeah, this is kind of a whiny, complainy post, but for the first time in what I think could be my entire life, I just wasn't excited for Christmas. And realizing that I wasn't excited for Christmas made it even worse because now I'm sad I wasn't excited for Christmas.