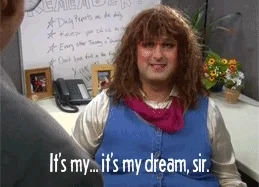 One thing that I dream of doing is publishing a book. I've wanted this for quite some time but I lack the motivation to actually get it done. Like I have lots of ideas for children's books or ideas of an amazing chapter for an adult fiction book, but that's as far as it goes. It's the motivation to finish the little story, or put the point form notes together, or to flesh out something outside of just a chapter. That's it. But I would still love to have something published.
What about you? What is one thing you dream of doing?
If you want to learn more about Saturday Questions, click here.
And this is the last one! My year of Saturday Questions has come to an end!! I can't wait to start writing about something else. I really enjoyed having this list to help me this year. Have you done something like this? Did you enjoy these questions? Any suggestions on what I should do next?