Y'all, I just got my mind blown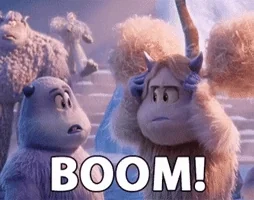 Ok, so here's the deal. I'm sitting at home on a Sunday after a lovely nap prepping for my classes next week. Since all but one of my students left, which is almost the same situation for all the other teachers at the summer camp, a lot of the teachers have next week off. Luckily, since I have been supply teaching for the last month in all the other buildings that this company owns, I was chosen to take on one of the classes. I'm switching from advanced English (giving them debates on abortion with no prep time and they are able to just go for it) to beginner's. My grammar lesson for tomorrow is on "do you –" questions. "Do you like the movies?" "Do you work in the city" etc. It's such a change but I'm totally down for it.
Anyway, so I head on over to youtube because I'll be in a class with access to a computer and projector (Can I get an AMEN!? because it's been hard without it) and I think it would be nice to show them a little video if I can find one. But then I got sucked into a rabbit hole of this one guy's channel and the only reason that I have stopped watching the videos is because I'm here typing this all out for you!
Lately, I have been following Daniel Euen Henderson, and while he's super supportive and a great motivational speaker, I find like his style isn't doing it for me anymore. I've actually taken him off my Instagram. I want something of more substance. And this guy, Derrick Jaxn, is amazing.
Even for the videos that were geared towards men, I found that they were really influential to me as a woman as well. Derrick talks about questions to ask on a first date, getting to know a woman the right way, types of girls who you shouldn't be friend zoning, things a good man needs from his woman. Those are just the ones that I watched before stopping to share with you guys.
I love a line he said in the one about questions to ask on the first date: that someone didn't end a 5 year relationship, they ended a 5 year time-wastedship. I think that's why I've been a little hesitant to really post about the guy on here. I opened up my dating life to the blog two years ago and it's honestly just been one fail after another. I didn't want to have yet another fail up here. Or get invested way too quickly. I feel like the men I've been dealing with lately have just been time wasted. But these videos put some perspective on things that I think I really needed.
I'm not sure if any of you need to hear what he says like I did, but I'm glad that I ended up on his page. He is still uploading new videos so I'm heading back to dive into them. It takes a lot for a youtube personality to really hook me like this. You should definitely check him out!