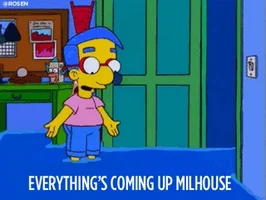 So I wrote the title and then went looking for the gif – does that mean things are good or bad?! Lol I hope good, because things have been good!
I have finally found an apartment. I could have kept looking but I was having a lot of anxiety over it so I just decided to settle on one. It's a little like online dating, you look at one, ask for a few days to think it over, keep looking, and always second guessing yourself thinking there might be something else better out there for you.
Two Saturdays ago, I thought I had found the place. It was only 2/3 of what I had budgeted for a place, all inclusive, perfect location for both work and church. The room was a decent size, private bathroom, I'd share the place with one guy but the female landlord said he was nice. For some reason, having a female tell me a man is a good guy makes it seem true even if I have never met him.
Anyway, getting to view that place was a challenge. I sent a text but no reply so I decided to call. The call was weird, and I could hardly understand the person but she said to check back in after a few days. So I did and she said I could come that day. The place was decent and for the price it was amazing. The lady said she'd text me her email to send her documents to get things rolling. Well I never heard from her that day. I had to apply for a credit report for her so I sent a text the next day saying my application was in the mail and that it would be back in a few weeks but could I get a confirmation that I could have the room. No reply. At all.
So I just started looking for other places. I saw a place this past Friday. It's a good location, good price, only one male roommate. We each have our own private rooms but share everything else. Then I saw a place on Saturday. It was a GREAT location, same price as the other but I'd have to pay wifi on top of it, THREE male roommates and only one bathroom. I honestly struggled for a solid minute. I wanted the GREAT location one but I didn't want to have to share a bathroom with three guys. No thanks. So I took the other one! I signed my lease and put down my deposit yesterday! WOOHOO!! We even worked it out that I could move the last weekend in July instead of waiting until August 1st which would be a mid-week move.
My mom isn't thrilled I'll be living with a guy, but he popped out when I was seeing the place so we said hi and from that 10 second interaction he seemed nice.
In addition, I was totally stressing out over my summer job. It had been over a month since I had heard from the company I'd be working for. When I accepted the job, I was told they would reach out later with details for the orientation. Well, the job was to start in three weeks and I still hadn't heard so I emailed asking if they had any dates set. Then on Saturday, I got an email from the lady who is organizing it saying that orientation is for this Thursday. So another WOOHOO! That means that I have to miss my regular nanny job, but I offered to go in during the day instead and the mom just said to come on Friday.
Of course, if you read my nail art post from the weekend, you'll know I finally found yellow nail polish! It's so hard to find in stores! The lady who waxes and threads my face said she'd order some for me from the supplier of the salon but I can never tell from internet pictures what the colour will look like in real life so I'm glad that I found one in person.
Now all that's left is to find out what grade and subjects I will be teaching in the fall. Fingers crossed and prayers would be appreciated for anything under grade 3.
How's your June shaping up?