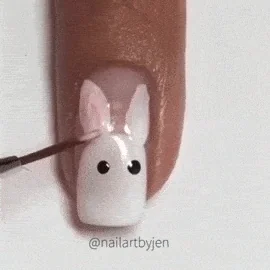 OMG a nail post!!
So it's been a short little minute since my last nail post, six weeks to be exact, and while I'm not sharing any new designs, I just wanted to check in with you nail art loving peeps.
I honestly have been STRUGGLING with this break. Back in May, when my last pair of gloves broke at work and I was fed up with having to buy new gloves every two weeks just to wash dishes every single day ruining all my hard work on my nails, I knew I needed to take a break. So I promised myself, and you, that I wouldn't do any new designs until I was done this job (June 29th). Which was a solid 8 weeks so that was good! Two whole months of nothing on my nails. NOTHING.
And it's hard. I mean, for someone who is used to having beautiful designs on her nails, it's so freaking hard. But I am doing it! My nails have grown out to a really great length, I am oiling them almost daily and shaping them every so often just to keep a nice squoval shape. Most of all, for some reason I don't understand or question, the breaking/ripping has stopped. And I am LOVING t! I do hate when I have something like a date and I want to be a little extra, I can't do my nails up, but that's ok. My vanity could take a back seat for a little bit too.
But I wanted to share something with you: I have found YELLOW NAIL POLISH!
You have no idea how hard it is to find it. Like honestly, I checked one Shopper's Drug Mart a few times and it wasn't there. No yellow?! In the summer?! What is happening?! How dare you not have yellow at the only location that I checked!
Yesterday, while I was out looking at a room to live in, I walked to the closest mall (literally less than 5 minutes, this place was the perfect location but living with three boys and only one bathroom is not perfection in my mind). I needed toothpaste and then I found it. ONE BOTTLE OF YELLOW. Like they had multiple bottles of the same shade, but only one shade of yellow! AND I GOT IT! It was only $5! FIVE DOLLARS!
When I was living in Korea, before I started this Nail Art Sunday bit, I would get my nails done professionally every two weeks. And this one time, they did this yellow/grey with a black bow design that I had found and I fell in love. It has been my mission to recreate this look ever since.
I mean, just look at how cute my nails were?! Those are my actual nails! ADORABLE! I'm half squealing in my apartment right now over that cuteness.
So since the yellow was only FIVE DOLLARS I also picked up a grey too because I'm like 85% sure I didn't have a light enough grey to match.
Oh, hello there, beautiful things! Aren't they just the picture of perfection?! So cute together! I have never tried this "Sally Hansen Hard as Nails Xtreme Wear" so the product review will go up when I actually get around to doing my nails in three weeks. But I did have to swatch them out just to see what they looked like. The yellow isn't as pale as what I had in Korea, but I still love it so so so so so so so so much.
See? Super cute. I still think I will attempt to do the design even though the yellow isn't the same yellow. I could try to mix it with white to lighten it up but I'm not sure. My cousin is getting married on July 6th, and the dress I'm wearing has lemons on it, so this might be the perfect design for that occasion.
Anyway, I just thought I'd let you know that I'm dying not being able to paint my nails. But I made a promise to myself and I will keep it! Not like all the promises not to get more tattoos. We all know those were fake promises. I'll just have to do my toes or something to take the edge off haha.