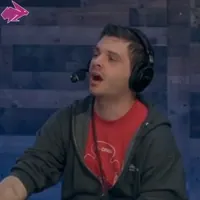 Saturday Questions are back on Saturdays! Woohoo!! This means that A to Z is over and we are slowly getting back to normal here on NLFF.
Today's question asked me to write about something I don't want to forget. And I've been thinking about it since last Saturday (I read the prompt to let it marinate and come up with something good otherwise Saturday is just too rushed! I gotta leave for work in 30 minutes, guys!)
So I read this and all week I just keep coming back to the same thing: I don't want to forget how I felt last year when I was in love.
Like sure, it totally sucked a whole fudge muffin's worth of suckage when I had to walk away from it, but I don't want to forget that feeling of compatibility that I had. Ya know?
And after the last six months, I'm 10000% positive that it was really only my feelings and he had none of them which does kind of make it suck even more, I still don't want to forget it.
I don't want to forget being able to just call someone whenever I needed a laugh, or to talk something through, or just have someone listen while I vented. Someone who understood my struggles and could offer advice. Someone who could tell by how I said (or typed) hello that someone was wrong even when I was trying to hide it. Someone to tell me when my writing was lame and to laugh at my mistakes. Someone who would call me for all the exact same reasons. Someone I could really be vulnerable with. And my true natural self. There were no walls up, no having to pretend to be a different, lightly better person. They knew almost all my secrets and all my flaws and it was still just so easy.
They encouraged me and told me when I was being ridiculous. They joined in the silliness of life but also called me out on my crap. Even when we'd get into arguments it was all good. Like we'd have our moment of anger or whatever, and then take a break and a few hours later apologize and move on.
But all those memories are also combined with the memories of having to walk away from that friendship, of literally bursting into tears while talking to my boss about something random when I found out he had started dating people, how absolutely foolish and broken I felt after telling him I loved him and not getting a reply back, the weeks of tears that came after that. Even after all of that, I don't want to forget. Because that's the type of relationship I want, just with someone who wants it with me.
Wow…so I know that was a deep one. In other news, I'm going to see Ugly Dolls tonight because I refuse to sit for three stupid hours in a theatre to watch Avengers. Ugly Dolls looks super cute and something lighthearted will be so good today! If you need some happiness after this post, check out the trailer. I just watched it and I'm already feeling so much better!
If you want to learn more about Saturday Questions, click here.