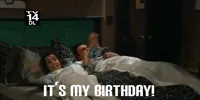 It's no secret around here that I LOVE my birthday! Like seriously, it's the best day of the year for me! And today is that day!!!
Happy 32rd birthday to me! 😀
I know, I act like a toddler most days, but yes, I am actually 32! And since all you lovely folks get to celebrate my birthday with me, I thought I'd share 32 things about me that you may not know!
I was born on Wednesday, April 15th, 1987 at 3:05 pm, weighing 9lbs 2oz, and was 21 3/4 inches long
My mom had them weigh me twice because I was long and thin and my brother was a chubchubs and he was 9lbs 3oz and she didn't believe that I was only one oz smaller
I took my first steps at 10 months old
My parents are horrible and can't remember my first word, so I'm just going to say it's "heck yes I'm awesome!" There record set straight.
Our first dog was named Toby, we got him when I was around 2.
When I was around 3ish, I was playing at my friends' house and their dad was swearing so I went home and called my dad an asshole. And my mom took me to wash my mouth out with soap and before she even sat me on the counter I was already crying. She says she had to turn away because she was laughing at me so much.
When I was 4, I stepped on a piece of glass the size of a syringe.
In SK, my best friend was named Nicole. But then we moved from Kitchener to Bright and at my new school there was a girl named Nicole. I walked up to her and said "my old friend was named Nicole too so let's be friends."
In grade 1, I took figure skating lessons. I sprained my ankle and hated doing it after that so I never really learned anything but my parents still have the VHS of my first and only recital.
In grade 2, my mom made me a tinkerbell costume. I can't imagine how she made it because the fabric was this amazing glittery gold stuff that I'm pretty sure would have driven her insane trying to sew it. It's my favourite halloween costume of all time.
In grade 4, I got my first pair of glasses, and got baptized, and my dad had a heart attack
In grade 6 I got braces.
I had to keep them on until grade 8. They came off literally a week after my grade 8 graduation pictures.
In grade 7, my grandma died. She was the only grandparent I ever knew. She was exactly 70 years and one day older than me. And was Scottish with red hair. She was amazing and I miss her.
In grade 8 my family moved back to Kitchener
In grade 9, I started debate which basically turned me into the talkative person I am today
In grade 10, I got my nose pierced for the first time. It lasted for about a year
I got it pierced again during my third year of university
Grade 11 I got my driver's license
The summer after grade 12 I got my first tattoo
And when to my very first "real" concert – it was the Backstreet Boys!
Then I started university!
During my second year I got my dog for my 20th birthday
In my 4th year, I was placed in a master's class and basically went against my own beliefs to make the teacher happy. My final paper was turned in late, with lots of mistakes, but because I wrote that white people are horrible and racist and prejudice, I walked away with a 97% on it and an A+ in the class
In 2010 I moved out on my own for the first time, and graduated from university and moved to South Korea
In 2012 I bought my first car
In 2013 I graduated from teacher's college
In 2015 I started my blog and moved back to South Korea
In 2016 I became a nanny
In 2017 I got my hippo tattoo!!
In 2019 something amazing happened that I'm still waiting to share with you!
AND I turned 32!!!!
And there's a little extra bonus being posted in just a few minutes for those people who are Giggling Followers!