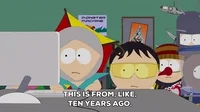 Ten years ago I was one day away from being 22. In 2009 I should have been wrapping up my last year in university but because of some academic issues I had during my first year, I still had one semester left to go.
Basically my life was pretty simple. I was living at home because my parents hadn't moved yet and I was still in university. I worked at a grocery store and was basically the assistant manager without ever getting the official title. I had started going back to church because the church I was attending had finally hired a new full time pastor. He was young and had political ideas and used modern society and life in his sermon. This was before he decided that he was going to destroy that church. I was probably gearing up to start planning the summer camp I was a leader for. It was connected to the after school program that I was a leader at. Both were run by my church.
I was single, I had had my pup for two years by then. He was still as much of a drama queen as he ever had been, and still is actually. I think I was planning on testing out online dating for the first time. I know I didn't meet anyone from it. Never even got close.
What were you doing 10 years ago?
If you want to learn more about my Saturday Questions, click here. Saturday Questions will be posted on Sundays for the month of April.