So Toronto woke up to a massive winter storm warning this morning. It's predicted to be so bad that both the public and Catholic school boards have closed schools for the whole day. Even before a single flake had fallen from the sky.
I thought it was a bit ridiculous because when I woke up at 7, the roads were completely dry. Nothing had changed overnight. One of the students I live with woke up and said their school was closed. Then at 7:30, it started. First the snow, then the wind.
I was sitting eating breakfast and was reading the news on Twitter, like I usually do, and they have outlined the storm. So now I'm taking them a little more seriously. This afternoon they are expecting to have power outages in some areas.
So what do I do? I text the girls living with me! Charge your phones, and any extra power banks you have. I've already got mine started. I have a small power bank which will fully charge my phone 2-3 times. And then I have this massive one my dad gave it. Once fully charged it can charge my phone AND my iPad mini from zero to 100% about four times each before draining itself. It's amazing.
But of course, that's not all I've done.
I've also started collecting water. Thankfully the main part of the house has a gas stove so we're ok for cooking if the power goes out. But water is always something that people never have enough of. So there are pots and buckets all over. Some for drinking, some will be set aside for flushing toilets if we need it.
Now, because I have gone to all this trouble, I fully suspect that there will be no power outages at all. The lights won't even flicker once! But I'm ok with that. I'd rather have to dump out all the water and have full batteries instead of the opposite.
Does anyone remember the ice storm in January of 1998?
I was 10, almost 11. Our family lived in this old farmhouse and thankfully we had a wood burning stove. We always used this stove in the winter so we had a stock-pile of wood outside. My dad hung a heavy blanket in the doorway to the room it was in, our family room, because there was no door and he didn't want all the heat escaping. We were without power for about 3 days I think. We were lucky, some were out of power for weeks. When we ran out of water, we melted and boiled snow. We had food, and we had heat. Sure the four of us had to live in that room, but it had a couch that pulled out into a bed and a SUPER comfy recliner.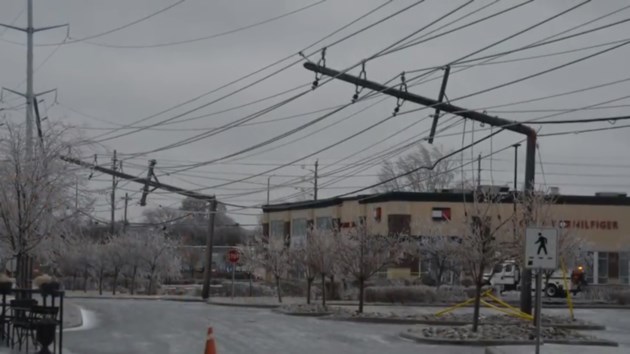 I know it won't be that bad today.
But it's why I always go crazy over preparing for winter storms.
If you're in Toronto, have you prepared for this storm? Do you think it will be as bad as they say?
If you're not in Toronto, how do you prepare for winter storms?