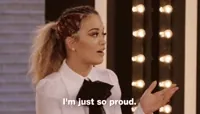 I am proud of so many things in my life, it's hard to narrow it down to just one. So I'm just going to ramble for a little bit about everything I'm proud of.
finishing my undergrad even after I was on academic probation after the first year
moving to South Korea, by myself, twice
going on vacation in Scotland by myself
anytime I have to fly because I hate flying
anytime I have to drive in the winter because it gives me anxiety
knowing what would make me happy and not settling for a job that sucked my soul
finishing a book and submitting it to an agency
not being crushed by their unavoidable rejection
starting running and loving it (it's supposed to be like 4 degrees tomorrow, I might even go for a run. Probably not but the idea is there)
being accepting of my body, even when society tells me not to be
keeping this blog going over 3.5 years so far
being able to do lots of nail designs on my own nails without having to pay someone else to do it
What are you proud of? Lemme know in the comments below so we can all share in some love.
If you wanted to check out the original post explaining Saturday Questions, click here.