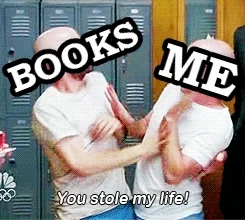 This week I'm asked to write about what fictional character I'd want to be.
Honestly, I hate questions like this. I really really do. I never know which fictional land I want to live in, or what two fictional characters from different books would make a good love match, or what character I want to be.
Like sure I guess it would be neat to live in a world with magic, but I'd never actually want to be one of the Harry Potter characters. I'm not sure I'd really enjoy living in Jane Austen's England, even if the clothing and balls were pretty cool, but I'd never want to be Elizabeth Bennett or Emma Woodhouse. Like there are things that intrigue me from those settings but never enough to make me wish I was actually there or actually be one of the characters.
Am I the only one who doesn't think about these things when reading a book? Like I just enjoy it for what it is and then move on? Does everyone else dream of these things?
If you'd like to see the whole list of question, check out this introductory post.