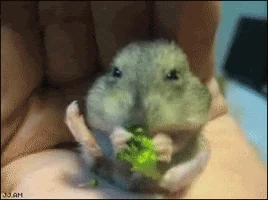 What is better on a dreary Monday morning that seeing that cute little gif?
So I have this thing: if you really want to have a new experience, go eat some new food. Like something you've never tried before.
I had the chance to do this on Friday, and I'm really glad that I did!
I was going out for dinner and the person I was going with picked the place. They are from Egypt and wanted to share a little bit of Middle Eastern flavour with me, which is great! I said I had never had any but then when the suggestions of shawarma and falafel and hummus came up, I was like "oh yeah! I totally have!"
We went to an Afghan restaurant close to my house, which apparently my friend goes to often. They told me what they normally get, and I was just so overwhelmed that they ordered for the both of us. You had to walk up the counter and order before sitting down and I had no idea what any of the menu items were, but there were a few pictures on the walls. When I go to a new place, I'd prefer to sit with the menu for a little bit but I just trusted them to pick something delicious.
And it was DELICIOUS!
We had a nice dinner talking about the differences between Egypt and Canada and other things, but most of all I just enjoyed the food.
I told my kidlets on Saturday about the experience and they asked what I ate and I started off by saying "well there was rice" and that was as far as I got without being interrupted. They only think of rice as the kind of rice they have and that's "boring" and "bland".
But this rice was flavoured, and the meat was tender and juicy and marinated in something that is making my mouth water right this instant! It came with like a tomato/red onion mix that you could add to the rice, and some lettuce that was dressed with something. Also a little container of something spicy to mix in with your rice (but it was too spicy for me). Then on the side, some flatbread with a dipping sauce that was also, very yummy! Then there was a drink: it was like a yogurt drink, with herbs in it, but it was salty. At first, it was ok, but closer to the end, the salt was a little bit too much for me.
I love getting to experience different cultures through their food. And getting to know my friend better through food that is close to what they would eat in their own country.
This one time in university, I was invited by a friend to join in on a dinner for their master's class (I was doing my undergrad and I knew the professor who would be there). We went to an Ethiopian restaurant and it was just so good! At the end, this friend had also arranged for us to participate in a coffee making demonstration. The woman who owned the restaurant came out with raw coffee beans, roasted them in a little can over a fire she had constructed, and told us about how she came to Canada and the struggles that her family faced in their journey here. As she heated water over her little fire to make the coffee from the beans she had just roasted and crushed, she told us about her childhood and it was just such an amazing thing to be able to have in my memories.
There is just something different about coming together over food that enriches the experience of learning about another person or culture.