What follows might annoy some people, there will be a lot of gifs. Mainly because I only had like one sentence to tell you, but would I even be me if that was all I posted?
No. The answer is no.
Okies, so Saturday ended kind of like this:
Minus the swears of course. We all know that is most definitely not me. I got home from work and was watching some Dawson's Creek (I'm not ashamed! It's on the CTV website in their throwback section so obviously I have spent the last month binging every single episode and finished the series last night) and then the internet went out. It was uber frustrating, but an easy fix. I just got up, flicked the router off, waited a minute and then turned it back on again. As it was booting up I saw a blue screen on my laptop. I ALMOST DIED!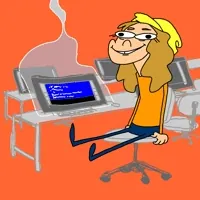 It just said something about a crash dump. But my laptop rebooted itself and then it seemed fine. Watching another episode and it happened AGAIN! I managed to get a picture of the screen before my laptop shut down and I sent it to my brother via text. He said it could just be that one of the drivers on my laptop is messing up. I just installed a new printer so he thought that was causing the problems. And the printer has decided to be a wifi spot so it all made sense.
The next day, I uninstalled all HP things on my laptop (I had drivers for like 3 different printers haha) and there hasn't been a problem since.
This was all in the build-up to Sunday. Oh, Sunday. Sunday was my day!
Saturday, while on Twitter, one of the people I followed retweeted a literary agent who was accepting new manuscripts – and she works specifically in children's books and YA.
Just like I wanted to do in my proclamations for 2019!
And I actually did the thing!!
I submitted one of my finished stories!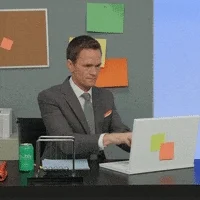 Even wanted to get started on editing one of the other stories that is half-finished but I'm going to re-write because it's all wrong (I didn't because I got distracted by Dawson's Creek but still, the idea was there) – My brain was all: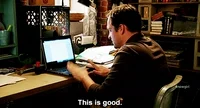 But now, this morning, I am rethinking what I sent and have like a thousand ways to actually make it better, and now I feel like this:
BUT I actually did it! I am really proud of myself. They didn't need illustrations attached, which was the main thing holding me back from submitting it three years ago when I finished my first draft of the little story.
Anyway, I know a lot of my blogging friends are also writers, so just so you know, AM Heath is accepting new pieces. The twitter feed that I was reading said they will consider international authors (they are located in London) which is why I submitted.
So basically all I wanted to do was let you all know I have submitted something. A simple sentence stretched out into 518 words. You're welcome!