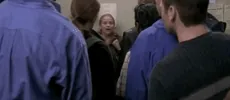 I think another one of these posts is necessary. Thanks to the great idea that Paul had a few days ago, I have a lot of new followers, and I don't always make sure my posts are easy to understand for new people so it's probably best to just do this so everyone is on the same page. Most of this can be found on my About Me page, but this will have more details.
First of all, who am I?
I don't blog under my real name for many reasons. One is that I feel like it gives me the freedom to write how I really feel. I started this blog as my own personal journal to work through some emotional times I was having and I didn't even intend for anyone to read it, so I just wrote from my heart and let the words fall as they may. It's still how I write now, but now I know that people are actually going to be reading it, so I do censor a little and structure a little. So, obviously, I blog under the name "Giggling Fattie" – which makes perfect sense for me because I am a giggler in the truest sense of the word and because I'm a lovely plus-sized girl (with a personality to match!). You can call me Giggling Fattie, Giggles, GF – whatever you like. But my real name starts with a T so you can call me T as well.
I'm currently 31 (don't worry I love my birthday so you won't miss it), living in Toronto, Ontario. I am a nanny to four amazing kids. I am almost the house mother to four Chinese homestay students who are all in high school here to learn English. My life is straight up bananas sometimes so if you want to try to understand it, please read this post. I wrote it last January but I have updated the information.
I sometimes write about the mother, my dad, or Le Brother – aka my famjam. My brother is a year older than I am and we are really close. I love him. But don't tell him that. It makes it harder to call him Loser Face over text if he knows that I love him. Even though I tell him I love him all the time – usually by saying "love you loser face". See? It works.
I've been to university, twice. To keep this short, I have degrees in political science, religion & culture, and education. I am technically a licensed teacher. I tend to side with socialist ideals but hardly ever vote for such. I'm a nice hybrid of a conservative socialist. Yeah..I'm making that up right now. But I will also vote liberal depending on the election and the people running in my riding. I'm also a Christian and that comes up from time to time. Especially in posts about dating.
Speaking of dating: I just finished a "Dateless December" and made a few posts reflecting on romantic things. I was healing from a major heart shatter and I wanted no boy drama for the holidays and it was great! Then January 1st: poof! Boy Drama. pffffttttt! I used to write about my online dating experiences in my "Online Data Saga" but stopped. When a boy is significant enough, he gets mentioned here. My "Love and things like it" tag is where you'll find that.
I have alopecia and wear a wig. I call her Doris. If you want more info, please read this. Although, Doris will probably be retired soon. She's getting to the end of her life and hopefully, in the spring I can replace her.
In addition to not having hair on the top of my head, I have annoying hair on my jawline and shoulders. It's one of the reasons why my old stupid doctor thought I had PCOS. So I have the joy of getting that removed every few weeks. Having hair violently ripped from your body using hot wax is an experience, and the first time I tried threading I literally broke down at the salon crying. That experience is chronicled here. Now I do a combo of waxing and threading on my face, and it's much more tolerable. No more crying while laying on a salon table.
Now that you know a lot about me, what can you expect from this blog?
First of all – hippos! I love them, I have one tattooed on myself, and I sometimes just make a whole post about cute hippos. You'll love it when it comes around.
I write about my life, so most days it's just what's happening, or some random thoughts. My best friend says that I write the same way that I speak, so by reading my blog, it's like you're actually having a conversation with me. I liked that. She's the only person from my real life that reads this – I don't share the link with anyone I know offline.
I don't do the swears, or the drugs, or the alcohol. I used to do the smoking but haven't smoked a full cigarette in 16 years. Yups, you read that number right. I used to do the swears as well, but my friends said it never sounded right coming from my mouth. It doesn't fit my personality, and I really can't anyways with my job so I've just trained myself out of anything harsher than "oh my god". There are a lot of "oh my goodness!" and "sweet baby Jesus" in real life. Fudge muffin makes an appearance as well.
I recently started running. I love it! But it's cold now and I don't have the proper things to run outside (that's budgeted in for next winter). So it's on pause until the spring. And I make posts about that too.
Every Saturday I make a Saturday Question post. And every 2-3 weeks I upload a video of me doing my nails. Usually, it will follow me asking for ideas for a new nail design. I fell in love with manicures while living in South Korea my second time so I like to indulge that by doing them myself.
I try to keep posts to around 500-750 words, obviously, this one utterly fails! But I knew it would be longer and I'm ok with that. Sometimes there will be pictures, sometimes there will be gifs, sometimes just words. Sometimes there will be a password protected post, but they are few and far between. Those posts are under the Giggling Follower category and are restricted for people who fit this criterion. I always try to mention before I post one since they don't show up in the reader, and if you don't get my posts emailed to you then you'd never know!
I welcome any and all respectful questions or comments. I have an email set up in my Contact Page so you can email me if you want to. Seriously, anything you want to know, just ask! But please keep it respectful. I had a little drama about a month back about what constitutes as a respectful discourse in my comments. And the bottom line is that if I feel like it's not respectful, I'm going to delete it. This isn't the place to be a troll or to start problems. I'm not here to argue with you or have to defend my posts. Discussion and opposing views are welcomed, but fights are not. We're a happy people here. It's a place to have conversations and interact with each other, and I want everyone to feel the love and feel safe and secure in sharing and being vulnerable here. That's how we do.
So I'm going to wrap this long thing up and let you all get on with your day because now I just feel like I'm rambling. If you're new here, welcome welcome welcome! You're awesome sauce and I love you! If you're not new here and made it all the way down to the bottom of this nonsense, you're awesome sauce with cherries and sprinkles and I love you!