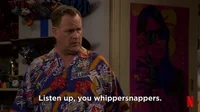 I'm allowed to call you that, right? It's with love, I promise! I've been so aggressive lately, I'm not sure what has come over me. 
I arrived home last night to the wonderful surprise that I had been nominated for this new award that I've never heard of by one of my new followers: Laura, from All The Shoes I Wear. It was extremely sweet of her, and if you haven't seen her blog yet, go and dig around for a bit!
Now, as most of my regular followers will know, I'm a rule breaker. When I get nominated for things, I always answer all the questions and make my own (because I'm totally nosy and want to know all about your lives) but I tend to not do any of the other rules.
And, ya know what? That's exactly what I'm going to do today! HAHA, I hope Laura doesn't mind!
If you want to see the actual rules, check out the link above because it takes you right to her post about it. And she even made a new badge/logo for this award which is really pretty.
Anyways, so the award basically just asks you to explain how you feel about solidarity blogging. Which is an interesting concept – to explain what you think/feel about the award.
So here's my two cents (but since I'm in Canada, I'll have to round up to 5 since we don't have pennies anymore and I'm not going to round down to zero because that would just be more shenanigans than I'm prepared to deal with this early in the morning):
I think blogging in its essence is all about connecting with other human beings. It doesn't really matter if you have a blog with 3 followers, or one with 300,000 – if you're not connecting with them, then it's not really a blog, is it? It's just your online journal. I think that distinction is key.
I am amazed at how many people follow my blog. It shocks me that they want to read my silly things every day. But I'm glad they do. I'm even more grateful for the small handful of them who interact with me in the comments. It's those people who make blogging worthwhile for me. They have become my friends even though we have never met in real life. We share victories and defeats together – offering words of comfort, encouragement, funny jokes, support, etc.
These are all things that really bring the word "solidarity" to life for me. It's the people who, even though we have never seen each other in real life, have formed this bond over our creative outlet. Bloggers are a weird group I think because non-bloggers don't really understand the connections we form. Most of the blogs I read share their personal stories in an open and vulnerable way, hoping that those reading are going to be supportive. It's a community of like-minded souls who have banded together. It's a (mostly) safe place to share our private thoughts and musings.
As Laura quoted in her own post, it's a family. It really does feel that way. I know that without the people I mentioned above, I would have given up blogging a long time ago. It's the interaction with other people, the sharing of ideas and lives, that keeps this blog going.
I'm not sure if that really answers the question for the award, but that's just what is going to be here.
Instead of nominating people (because I hate that with a passion), I'm just going to leave my comments open to anyone reading – what do you think about solidarity in blogging? Do you view your blogging experience of one filled with it? Devoid of it? Any other thoughts to share? Lemme know below, or make your own post! You can always go to Laura's page and get the official rules and do it up right.