Sometimes, these awards/tags feel a little bit like that gif up there, but this one is fun!! And it's Christmasy and I love anything and everything to do with Christmas and OMG we're less than two weeks away so MORE CHRISTMAS THINGS!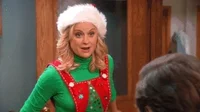 Hehe! Ok, I'm done now. I apologize for my overuse of gifs lately. Not really cos I love them, but I know a lot of people don't so, yeah, I guess I'm sorry.
Becky, over at Strikeouts and Sprinkles has tagged me in this fun Christmas chain-letter type thingy and I'm gonna do all the steps. That's right peeps and meeps all the steps! When was the last time I did that?! I surely can't remember. Probably like a year ago or something. I'm a rule breaker.
Here are the rules:
1. Thank the blogger that tagged you and link their blog to your post. Thanks, Becky! I'm super excited to do this!! 
2. List the rules in the post. What does this look like? See all the pretty rules?! 
3. Answer all the questions asked by the blogger. Totally gonna rock it! Prepare yourselves to read some awesome things! 
4. Nominate some other bloggers and provide them with 12 new questions! Prepare yourselves to answer some awesome things! 
Becky's Ponderings (with American spelling left and everything!)
Thoughts on Christmas lights staying up all year round? 

No way! I like to keep holidays and special occasions separated into designated time slots haha. So Christmas lights and decorations are limited to November 12th-December 31st. It's a new year, don't bring anything from 2018 into 2019. That includes Christmas lights. 

When do you start listening to Christmas music? 

November 12th! 

When is too early to start listening to/playing Christmas music? 

I think you might have guessed this one, anytime before November 12th haha. And let me tell you why, because I get a lot of questions about this considering how much I love Christmas. A lot of people think that I'm a "November 1st is Christmas season" type of girl, but I'm not. I was raised to have the utmost respect for military personnel and their job and sacrifices. And Remembrance Day is on November 11th – a day to honour those men and women and their sacrifices. I keep all my Christmasness inside until after as a way to show that respect. So November 12th is an ok time to start. 

How do you do your Christmas shopping—in the stores/online/combination? 

The last couple of years, I've done almost all my shopping online. It started with my first contract in Korea, I was over there for Christmas so I ordered from Canadian websites and had it shipped to my parent's house and then my dad or mom would wrap the gifts I had sent and put them under the tree for me. It's just so much easier to do it that way. But this year, we've been in the middle of a postal strike (which is over now). I still have done a little bit of online shopping, but super early because all the packages were around a week late being delivered. I just have a few more things to pick up and those will be done in store. 

What's your favorite family tradition around this time of year? We don't really have a lot of family traditions for Christmas. My brother and I always go to our parents' house for a week, but that's about it. Once we are there it's basically just a week of everyone on their own technology and not really doing much. This year I hope to get through editing all the pictures that I have left to be edited, and set up my planner for 2019. My brother and I used to watch White Christmas every year but that doesn't happen anymore. I've tried to start family game nights and my brother wants to do more family activities, so we're trying to get that started. Maybe it will become a tradition in the future? 
Real or fake tree? 

I could go either way. I have a small fake tree for my little apartment, it's only like three feet tall or something. It's super cute. Growing up we always had a fake tree, then for a few years in my late 20's we had a real one, but my parents are back to fake now. I think it's just easier haha and who wants to be cleaning up all the sap and needles after? Not me! 

Favorite Christmas song? 

All I want for Christmas is You – Mariah Carey!! OMG YAAAASSSSSSSS 

Favorite Christmas movie? 

White Christmas – same enthusiasm as question 7 haha 

What's the worst Christmas present you've ever received? I think I've been pretty lucky that I haven't ever gotten like really horrible gifts. I am pretty good at making air-tight lists haha Like one year all I wanted was an iPod so I had a full page typed up of different options and styles and designs of an iPod but all that was on the list was an iPod lol and I got one! hehe  Although, one year I had redecorated my room and I wanted a few things for it and some guitar supplies because I had just bought myself my first (and only) guitar. I ended up taking back everything my parents got me and exchanging it – the lamp was something my mom loved but it was so old lady, the guitar case was cloth and I wanted a hard case, the strap was this punkish pink/black checkered like Avril Lavigne would have and I wanted a classic leather strap. It was what I had asked for, just not my style at all. 
Who is the toughest person you have to buy for this Christmas? 

I don't really buy a lot of gifts, only my family and my kidlets, but p

robably my brother. He's not really into gifts and his birthday is two weeks after the holidays so I always get two gifts and send one home with him so I don't miss his birthday. 

Frosty the Snowman or Rudolph? 

OMG Becky!! How can I choose?! I love both films but if we're talking songs, then definitely Frosty. 

Do you have to attend any Christmas/holiday parties this season? 

I'm lucky that I don't have to! I'm not really one for parties anyways. Since my work is a nanny job, there isn't like a big company party. We are doing a secret Santa exchange on Tuesday but that's about it. 
I would like to tag Angela, Trula Marie, Bex, AJ, G, Britchy, Sam, and Becky I'd love to read your answers too but you don't have to do the whole thing over again. Just hit me in the comments 😉 And of course, anyone else who wants to answer these questions, feel free to write a novel in my comments section because I will read every single word! Do it! I double dare you.
My Questions:
Do you send Christmas cards? If so, who makes the cut?
How about a Christmas newsletter?
Glitter covered cards/decorations – yes or no?
Tinsel?
Favourite Christmas treat?
Mistle Toe – avoid or seek out?
How do you decorate the inside of your house for Christmas?
Do you fill stockings with presents or are they just a decoration? If you do fill them, what types of things do you like to have in yours/put in others?
Do you like to have a white Christmas?
Advent Calendars: Fun or not? Regular cheap chocolate ones or more elaborate?
Presents on Christmas Eve or Day? Or both?!
Christmas Day – what happens in your house? Walk us through a typical day.