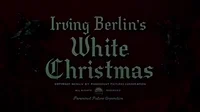 It's no secret that the 1954 extravaganza White Christmas is my favourite Christmas movie. I LOVE IT! I have watched it so many times I can basically play all the parts of the movie as it goes.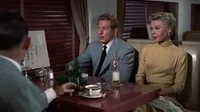 My brother and I had a tradition of watching it every Christmas Eve, starting it at 10pm which would have it end just after midnight. But I'm an old lady now and I can't stay up that late hehe. We still watch it but it's started to involve my parents too and that just kind of ruined it for me. Sorry, mom and dad.
There is nothing I love more during the holidays than to see Bing Crosby and Danny Kaye sing and dance their hearts out to this hilariously beautiful script.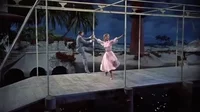 The thing is, I've only ever seen it on a TV screen or on my laptop. BUT NOT ANYMORE!!!
I was looking on the Cineplex website to see if there were any kid-friendly movies that I could take my hunny bunny to on Friday (it's a PD day for my two youngest and 3rd has lots of friends coming over so I figured it would be a good chance to have a post-birthday date with 4th) and there it was, listed with all the other movies, White Christmas.
I literally SQUEALED!! And did a happy little dance!
I set about to book myself a ticket and found out that the theatre is only having two showings!!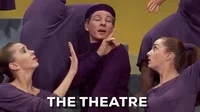 I booked myself a ticket for the 14th at 3:45 (IT WAS ONLY $7!!!! SEVEN DOLLARS!!!!!!) and I CAN'T WAIT!! I'm probably going to be the only young person in the theatre. I hope I'm surrounded by little old grannies and grandpas who are old enough to have seen it when it first came out. I might even get popcorn!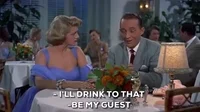 The other showing is the evening of the 22nd, and that's the day Le Brother is driving from Ottawa to pick me up for Christmas. I offered to have him stay overnight in Toronto at my place and then check out my church the next morning before going to our parents so if that happens, then I'll probably be seeing it again. As if I haven't seen it enough times already.
Until then, I hope you've enjoyed my overuse of gifs today, all from the movie of course, and just for fun, have one more, because I can't keep my excitement in!