Time for another double post. There were about 5 solid players that I could have included with this letter like Nazem Kadri, Bill Kinkle, or Adam Keefe, but I can only write so much!
First, let's start with the most salacious of gossip. Which means Petr Kanko.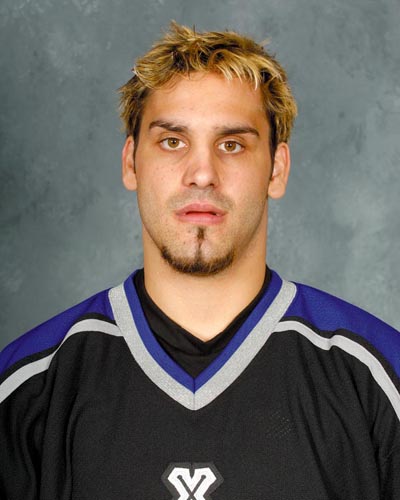 Petr played for only one OHL team, the Rangers, before being drafted 66th overall into the NHL. He was born in the Czech Republic and started his hockey career there. He played with the Rangers from 2001-2004. After he was drafted to the NHL, he played a few seasons on AHL teams before playing just one season with the Los Angeles Kings. He finished his hockey career back in the Czech during the 2015-2016 season.
Now, onto the person…Petr was an interesting person to be around in high school. He thought he was the shit, and who could blame him? He was brought from the Czech to play for the Rangers. He was sought out for his talent, and he was a popular, powerful hockey player. Of course, he also had *quite* the reputation around school. He wasn't just a hockey player, he was a player as well. I'm pretty sure he had slept with 50% of the girls at my high school over the three seasons he played with the Rangers. And he wasn't discreet about it at all. Once, he was out past curfew with some teammates (which meant they had to pay their coach a fine) and a girl in their SUV. The guys realized that it was past curfew, and instead of allowing the girl to get dressed and step out of a stopped car, the rumour has it that they drove her to about a block away from her house, slowed down *just enough* and pushed her out, half dressed, without even stopping the car. Charming.
Also for your reading pleasure, Jakub (Ya-kub) Kindl.
Jakub, like Petr, was from the Czech and, like Petr, he played for the Rangers for 3 seasons from 2004-2007. Unlike Petr, Jakub's NHL career got off to a much better start. Jakub missed part of his last season with the Rangers because he had been drafted (19th overall) by the Detroit Red Wings (uuuggghhh excuse me while I throw up in my mouth) and was placed on their farm team for a few months before returning to play out the season with the Rangers. He then played for the Red Wings for many seasons, as well as their AHL farm team. He's still currently playing hockey in the Czech league for the Plzen HC.
I remember the fall that Jakub arrived at school because it was really weird to see him being all polite. I knew he was a Ranger (my friends and I played "spot the rookie" on the first day of school) but he was actually a really nice guy. He would hold doors open for people. No one did that! You just open it and run through to your next class, pushing it as wide as possible and hope that the next person didn't get smashed with it. And I felt really bad for him during that first week. While holding the door open for a group of girls, they all gave him some side shade as they walked through. He was in one of my classes and he didn't have a pen on the first day. A girl, thinking he was cute, gave him one of hers. At the end of the class, he went to give it back, but by that point, she had learned he was a Ranger. He said thank you and passed it to her, letting it drop into her waiting hand. Which she then promptly withdrew and scoffed at him and told him "no thanks, I don't need the STD's". Poor guy!! It's sad but that's the attitude that most people had towards the Rangers. Even if they were fans of the team.