We start our challenge off with a total sweetheart: Justin Azevedo.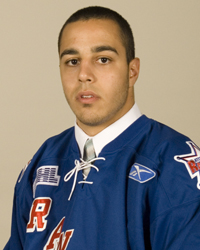 Justin played for the Rangers from 2004-2008, which means that he was only there for my grade 12 year. He actually spent his entire OHL career with the Rangers, and after he went to play in the AHL for the Manchester Monarchs before moving to European teams. He currently plays for the Kazan AK-Bars in the Kontinental Hockey League.
Now, when I knew Azevedo, he really was a super sweet guy. The puck bunnies and rink rats had yet to influence him. My only story about him came about by accident actually. While walking with my friends from one class to the next, I was walking by a bank of lockers and got a fist right in the face – it was Azevedo's. He was putting on his coat and I walked by at the worst possible moment and as his arm came out through the arm, it also connected with my face.