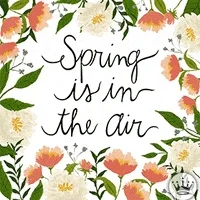 Yesterday marked the first official day of spring – and who doesn't love when it's no longer winter?!
Luckily, here in Toronto, it hasn't really been winter-like for a little bit now. Now that it's spring, I'm noticing just how "lack of natural light" my bedroom has. I can't wait to get into the suite so I can have sunlight and windows that open!! It's so bright in there. Plus the walls aren't white so that's pretty rocking too.
Currently, I'm in the "sitting room" of the house. It's in the kitchen but it's surrounded by two FULL walls of windows. And it's only -5 (23 for my American friends), so the windows are open for some fresh air!!!
Now that the move has happened, I'm taking over as the house helper. It's only really been two days of it and so far it hasn't affected much. I still have lots of time for you lovelies! I do have to get up 30 minutes earlier but that's totally fine!
Unless it goes like this morning where I woke up 20 minutes before my alarm was set to go off, and I'm one of those people that will not get out of bed until my alarm goes off. That's 20 minutes that I had left of bed!! Anyways, so I'm just laying there, wrapped up in blankets, in the dark, thinking about stuff – and I know that my alarm is going to go off. And my alarm is a nice soft song, but since I sleep with earplugs in, it's kind of loud. And I had taken out my earplugs sometime during the night (I have no idea when, but they were placed nicely on my bedside table so way to go sleeping T). Well – my alarm went off and gave me a freak heart attack!! Gah.
But then I was up and ready for the day! YAY And here we are…sitting in an oversized chair, with the windows open and Marvin Gaye playing from my phone. What could be a better way to start spring?! Turn your speakers up and enjoy the auh-mazing 70's fashion *dances around kitchen*