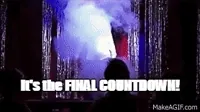 Peeps and Meeps!
Today is the day! March 15th! Exactly one month before my birthday!!
Please prepare yourself for a month-long reminder that I was born on April 15th. There will be random posts and a few "only — more days until my birthday!!"
I LOVE my birthday. I honestly don't care that I'm getting older. I love my birthday. And can't wait for it to get here since I'm taking a road trip that weekend. YAY
That's all – back to your regular Thursday programming.