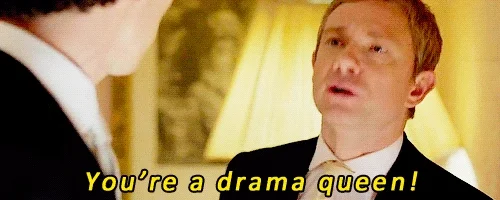 I try really hard not to be, Martin Freeman! Really I do. 
So there's currently a little problem at the house involving some of the homestay students.
One student won't go to school, and one student won't stop being self-centred and inconsiderate.
First up: not going to school. So technically this student is 19 and we aren't his guardians. My boss just has to take care of home things. Not school things. But he will literally just stay in his room all day every day. School started back on Monday and he didn't go Monday or Tuesday and I'm 90% sure he didn't go today. Like sure, he could have slipped out while I was getting ready for the day, but I didn't even head back to my room until after he should have left. We've made a "no food in your room" rule so hopefully, that will at least bring him out to get food. On Monday, he ate breakfast and then stayed in his room until 9pm when I sent him a message on Facebook messenger asking if he was ok because he hadn't even eaten his lunch yet.
The other student is just a pain. Right now her school is on a post-exam break. She doesn't go back until tomorrow. So she's home all day. So when does she decide to start practicing the piano? At 8:30 at night when the lady who wakes up to make breakfast is trying to sleep. I've talked to her about this. During the week, no piano after 8 pm. On Friday, she decided to practice her piano at like 3 pm – which is an amazing time to practice. Expect that it also overlapped with piano lessons in the same room. We have two pianos and they are right beside each other. She's been told, just in passing, no food in her room but she's in there eating anyways. We are having a house meeting on Saturday so it will be brought up again (for all students not just directed at her).
GAH – teenagers!
This post is part of my 30 Days of Writing Challenge