That's "outfit of the day" for all you non-youths (like myself).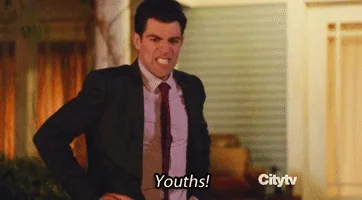 I guess this goes off of the prompt for yesterday – of course, after talking about your body and how comfortable you are with it, let's talk about what you are wearing today.
Not even 9am yet, but I'm already for the day so at least this works for me today.
I woke up in pj's (obviously), blue/pink plaid pants and a pink t-shirt, and then after breakfast and coffee (and seeing my boss at 7:30 am since one of the homestay students was going home today and left at 7), I got changed into clothes I could wear for work.
Saturdays are tricky to plan for. I never know what might be happening. Is it a stay at home day where the children are still in their pj's at 3pm when I leave? Or is it an everyone is showered and dressed by 9:30 when I arrive because they have company coming over or programs to go to that I didn't know about day?
I settled on pj's. Yes, that's right! You heard me! I am wearing pj's to work. Don't even say you're not jealous. I literally do this all the time. While picking out a new pair of winter pj's in the fall, I selected my blue/pink fuzzy plaid pants and then this greyish long sleeved pj sweater to go with it. But the first time I put it on (at home, not in the store because I like to live dangerously), I realized it looked super adorable on me and I wasn't going to waste that level of adorableness on sleepwear. Plus, it has little black specks all over it, and it makes the shirt all bumpy and 4th likes to run her fingers up and down my arm feeling it which leads to tickling me because I'm sooo uberly ticklish and then she laughs and runs away evil giggling. So bonus.
I paired that cute top with a pair of skinny jeans. Both are actually from Wal-Mart just in case you were wondering. I'm in this weird phase right now of dropping weight that every few months I have to buy new pants because my old ones are too big now, so I'm not spending good money on quality pants just to have to replace them in 3 months. Not happening.
Just to amp up my cuteness for the day, I splashed on some mascara (to avoid the "OMG T what's wrong with your face?!" which comes from 3rd and 4th because my eyelashes are white and they are used to seeing them black. It is kind of a shocking change if you've never seen it before haha) and then threw on a headband. A cupcake headband. Partly because I haven't worn a headband in ages, and partly because I knew I would be doing this post (I checked last night what the topic was), and partly because I literally ate a cupcake at breakfast. One of those mini ones, that is one bite. It's one of the student's birthdays today and I was setting up a tray of cupcakes and her card so I snagged one. It was literally the size of a large strawberry, but still delicious.
Anyways…I didn't think I could write 600 words about what I'm wearing today but there ya have it. If you are one of the bloggers who have access to my password protected posts, there is now a new one, with a photo of this cuteness *motions to all of self*
This post is part of my 30 Days of Writing Challenge.