I don't really talk about my work family too much. That's mostly because I love them and I enjoy working with them because it never really feels like work. And also, because I respect their privacy. I try to talk in abstract terms and never use names. I don't post pictures of them, just like I don't post pictures of myself.
But that's online T. Offline T never hesitates to pull out her phone when gathered around people and go "want to see my kids?!" Because I'm proud of my work kidlets. They accomplish some amazing things. Even if it's just 4th actually half smiling in a selfie with me. She never smiles in pictures. I almost set it as my lock screen on my phone but I didn't.
So when people see these pictures, the most common response is "Oh…wow….they're black."
Um….yes? Their families are from Trinidad and Jamaica, where you expecting something else?
But seriously why is that even a comment that you need to make?! Does it change how they act or how I feel or how much love is shared in that house? Why does that even matter?
And what makes it worse is when people then start asking me all about the other people who work with me. We eventually get to the part where someone goes "So like, you're the only white person?" Which then turns my waining happiness into a solid glance of shade so harsh that frost starts to form on my glasses.
But do they stop there?! Oh no! Some people actually take it a step further, thinking they are being "all funny" and go "You're just like the movie "The Help" except backwards!"
Let me make myself perfectly clear – it's nothing like that. And how dare you even consider comparing me working with an amazing family and having an amazing job where I feel valued and respected to the experiences of those women in that book or anyone who had to live through experiences where they were treated like second class, or worthless by another human being. Don't. Even. You saying this makes me question our relationship to one another and seriously makes me never want to talk to you again.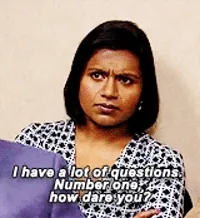 I have heard this so many times. And I'm basically at the point now that if I hear it one more freaking time I'm probably going to punch that person in the throat with a chair.*
This post is day two of my 30 Day Writing Challenge.
*I would never actually do that. But I will picture it in my mind.