It's time to crack open your advent calendars at home, and it's time for the 2nd annual No Love For Fatties Advent Calendar.
Last year, I focused on music, and this year I'm going to focus on movies. I know – totally generic but whatever. I love Christmas movies!! And more so, the classics, the originals, the super obscure ones that I grew up watching on old VHS that we taped from the tv (yeah we totally did – don't pretend you didn't either!). Each day, there will be a post featuring a new movie that I enjoy watching. Maybe next year I'll do something a little more original
Please note: there will be LOTS of gifs used so if you find them annoying, you have been warned.
Today's movie is the last on this list, and it is the absolutely magical White Christmas.
Produced in 1954, this is a classic old Hollywood musical. Starring Bing Crosby, Danny Kaye, Rosemary Clooney (George's aunt) and Vera-Ellen.
It starts off with Bing and Danny in the war, on Christmas Eve, saying goodbye to one of their generals.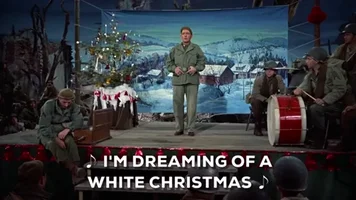 Then, there is an air attack! Danny saves Bing from a falling wall, and then Danny uses the biggest guilt trip in the history of guilt trips to get Bing to agree to start a duet with Danny – still following?
Well, the duo of Bing and Danny turns into an instant smash hit! But honestly, why wouldn't it?! Their voices are amazing.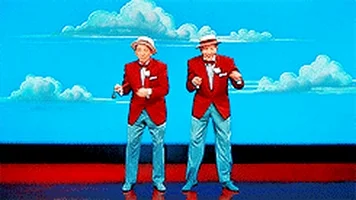 Flash forward a little bit, and it's Christmas time again. Bing and Danny are a duo, super famous, and checking out a sister act for an old pal from the army (aka Vera-Ellen wrote pretending to be her brother to get some free advice).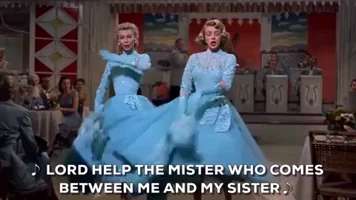 Anywho…the regular shenanigans occur,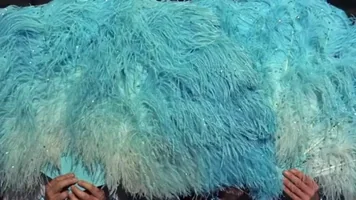 mixed in with some very catchy song and dance numbers,
and they end up at the same ski resort for the holidays and they put on a show to help save it for that general from the start of the movie. And then one falls in love with the other, and the other falls in love with the last one, and it all ends up happy happy.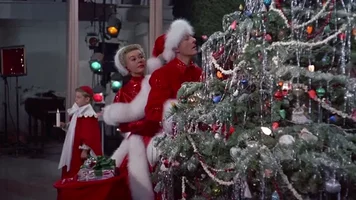 And there ya have it, folks! Just like that, my list has finished!
I hope that you were able to find a few movies/TV shows/whatever that you enjoyed, perhaps a few of you even saw your favourites over the last 24 days!
Until next year! When, hopefully, my advent calendar is a little bit more original hehe.