It's time to crack open your advent calendars at home, and it's time for the 2nd annual No Love For Fatties Advent Calendar. 
Last year, I focused on music, and this year I'm going to focus on movies. I know – totally generic but whatever. I love Christmas movies!! And more so, the classics, the originals, the super obscure ones that I grew up watching on old VHS that we taped from the tv (yeah we totally did – don't pretend you didn't either!). Each day, there will be a post featuring a new movie that I enjoy watching. Maybe next year I'll do something a little more original.
Please note: there will be LOTS of gifs used so if you find them annoying, you have been warned.
Today's movie is: Madeline's Christmas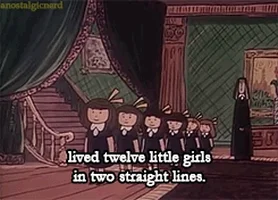 Alright now if you tell me you don't like Madeline, I'm going to have some seriously harsh thoughts towards you. Madeline is adorable! She has red hair and likes to make her own rules. Sounds like a certain Giggling Fattie that I know you all have come to love. 😉
There are a few things I don't understand about this show in general. First of all, how did Madame Clavel get all 12 girls to behave properly 95% of the time? The other 5% Madeline was making some sort of craziness happen to make the nun run around all worried.
Look at them brush their teeth! All at the same time! No messing around, no fighting, each having their own little sinks. No splashing water or wandering off with a toothbrush in their mouths…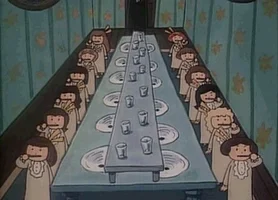 So here's the deal – all the little girls are getting ready for the holidays. They are making gifts for their parents and are packing it up. But then "ACHOO" they all get sick. Legit every single one except Madeline.
Then the kitchen is a mess and a lady they know from the streets comes over to spend the night cos there is a snowstorm. From the time it takes Madeline to walk from the kitchen to ask Madame Clavel if the lady can stay, and then come back, the kitchen is clean. I personally need this lady to drop in on me at work somedays when I spent 3 hours plus in front of a sink washing (not all at once, but spread over 6 hours).
Anyways! So there are songs, and cute little Madeline trying to fix everything and showing her Christmas spirit. And then Christmas morning, when everyone is better after only one day, they are snowed in and can't go home! BUT WAIT! There is a knock at the door! Is it Santa?!
NO – it's everyone's parents. I know…I spoiled it for you. But did you really not see that coming? I'm not sure how they got there in the snow if the girls couldn't leave but that's the magic of television, folks.
Overall – a super duper cute little show.
And here….watch this just for the sake of having a little extra cuteness in your life today! As if I wasn't enough 😉