It's time to crack open your advent calendars at home, and it's time for the 2nd annual No Love For Fatties Advent Calendar. 
Last year, I focused on music, and this year I'm going to focus on movies. I know – totally generic but whatever. I love Christmas movies!! And more so, the classics, the originals, the super obscure ones that I grew up watching on old VHS that we taped from the tv (yeah we totally did – don't pretend you didn't either!). Each day, there will be a post featuring a new movie that I enjoy watching. Maybe next year I'll do something a little more original
Please note: there will be LOTS of gifs used so if you find them annoying, you have been warned.
Today's movie is: Santa Claus is Coming to Town.
Definitely an oldie, but certainly a goodie!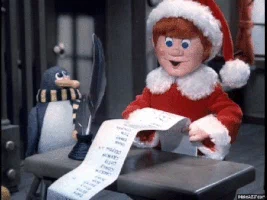 What is it about claymation that just makes my heart all mushy and soft? I'm not sure – but I love it.
Now, this was just a TV film (I'm pretty sure I have lots more on my list!), released in 1970, which makes it 17 years older than I am, but age is just a number folks! Both in love and in good Christmas movies!
And when you have Fred Astaire in the movie, well that just makes it all the better!
This is a story about how Santa came to be. It's based on the song Santa Claus is coming to Town and shows how Santa started off as a baby, and then an outlaw. See his charges: The Terrible toymaker. Geeeze Santa! Get your life together.
Of course, the film needs a villain, and it comes in the form of the evil  Burgermeister Meisterburger.
But of course, in the end, Santa saves the day, Christmas is started, and now there is a Santa Claus. With great voices including Mickey Rooney, you literally can't go wrong with this short little film. It's 50 minutes long, and OH LOOK, here it is.
You're welcome.
*all images provided via google*