It's time to crack open your advent calendars at home, and it's time for the 2nd annual No Love For Fatties Advent Calendar. 
Last year, I focused on music, and this year I'm going to focus on movies. I know – totally generic but whatever. I love Christmas movies!! And more so, the classics, the originals, the super obscure ones that I grew up watching on old VHS that we taped from the tv (yeah we totally did – don't pretend you didn't either!). Each day, there will be a post featuring a new movie that I enjoy watching. Maybe next year I'll do something a little more original 😉
Please note: there will be LOTS of gifs used so if you find them annoying, you have been warned. 
Today's movie is: The Santa Clause (1, 2 and 3.)
Now if you haven't seen this franchise, I highly suggest that you do. I really only enjoy the first one and the third one. But I haven't ventured into the second in quite some time. Maybe this afternoon after work I will do a Tim Allen marathon and watch all three while I slowly slip into a coma after working the equivalent of 7 days this week but only in 6.
I don't know what it is about Tim Allen – maybe it was all those years watching him on Home Improvement, or how he voices Buzz from Toy Story, but he holds a special place in my heart.
So this movie is about a kind of sad dad. There's been a divorce and there is a kid involved who doesn't really want to stay with his dad. That's heartbreaking right off the bat.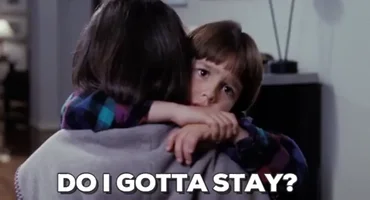 Then, on top of all of that emotion, he kills Santa. Yeah I know guys, what a way to start a movie. Kill Santa – you've got a blockbuster there!!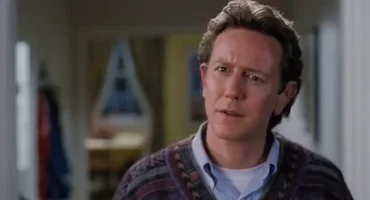 But here's the deal – if you kill Santa (or he falls off your roof by "accident") and then you put on his boots and suit then you become Santa. Hilarious, right?!
Anyways, Tim Allen puts on the boots and suit and becomes Santa and he has to learn how to be Santa and save Christmas. It's a great movie.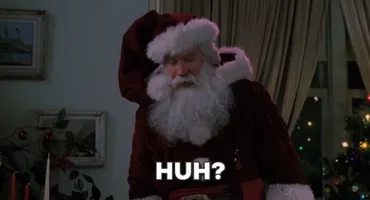 Seriously! It's cute. And in the end, everyone ends up believing that he is Santa. Even his ex-wife who hated his guts.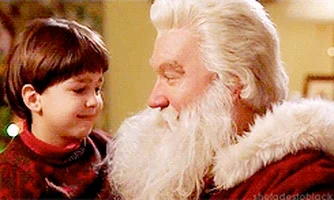 The Santa Clause 2: The Mrs. Clause, Santa needs to find a wife or else he can't be Santa anymore. Oh, the DRAMA!!! As I have recently learned, the dating world is hard. I feel you Santa.
And The Santa Clause 3: Escape Clause is where Santa must fight Jack Frost (Martin Short) who is trying to get Santa to resign. Again, drama. There are in-laws and a future Baby Claus all in the mix. Grab the popcorn guys, it's going to be a long night.
Overall, all three movies are a Christmas must for me!