The day has finally arrived! December 1st! It's a day to crack open your advent calendars at home, and it's time for the 2nd annual No Love For Fatties Advent Calendar. 
Last year, I focused on music, and this year I'm going to focus on movies. I know – totally generic but whatever. I love Christmas movies!! And more so, the classics, the originals, the super obscure ones that I grew up watching on old VHS that we taped from the tv (yeah we totally did – don't pretend you didn't either!). Each day, there will be a post featuring a new movie that I enjoy watching. Maybe next year I'll do something a little more original 😉
Please note: there will be LOTS of gifs used so if you find them annoying, you have been warned. 
Today's movie is Elf. How on earth could I have a list of Christmas movies without Elf?!
I know that Will Farrell is a polarizing actor, either you love him or you hate him, and I generally don't like the type of movies that he puts out – especially in his earlier years, but Elf is one of my all-time favourite movies. It's silly and cute and basically me all wrapped up in a delusional elf persona. Buddy's enthusiasm for Christmas is on par with mine.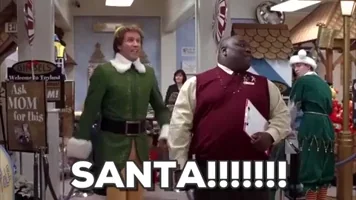 I have literally uttered the phrase "smiling's my favourite" within the last month without it being on purpose to reference the movie. I'm being serious. An 8-year-old rolled her eyes at me so hard I heard them hit her brain.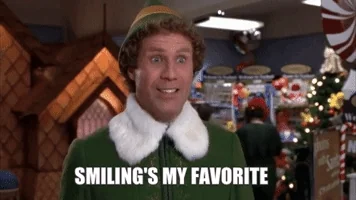 And the whole singing thing? I've got that down!! I will randomly sing words in sentences just because, and I fully agree with Buddy: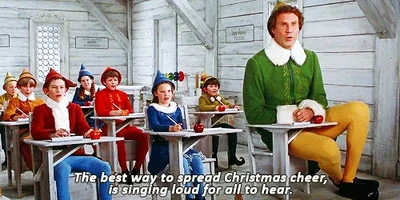 I am known to make up my own cuss words, just to make sure that I'm not saying anything inappropriate at work around my kids. Also, I honestly have never really been one for swearing (side note: in my dream last night I was swearing up a STORM, but I was running away from a fire engulfing a building while holding a baby that was screaming that it just wanted to see an umbrella…)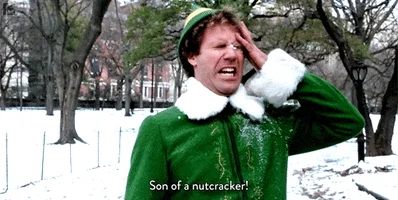 So, basically, I have nothing but love for this movie. I watch it many times throughout the year just because it makes me happy.