Did you guys know that it's less than a week from December 1st? I'm not making this up!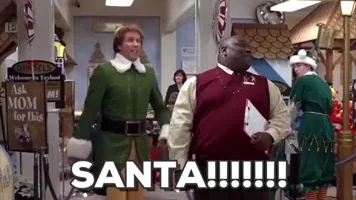 For those of you who didn't know, Santa is a dear dear friend of mine. My dad was an elf before he retired so I have some extra influence with the big guy in red. Which I remind my kidlets of very often. Last year, they didn't really know me too well at Christmas time (I had only been working as a nanny for a few weeks at that point) but this year, I think they know me well enough to play along with the insanity.
This week, I'll be having a one-time-only change to my schedule. I'm working Friday evening. Which I normally don't do. Fridays and Sundays are my days off. I'm still not sure if I'm dropping a day during the week, there was a mention of having Monday off this week but we will see.
I've never worked a Friday before for this family. But I do know that Friday's are chill nights. Relaxing. And guess what I'm going to do with the kids! We are going to write letters to Santa. And since he's a dear, personal friend of mine, I will be writing one also (gotta keep up appearances – I'm trying to keep the magic alive for the one child, maybe two children who still believe in Santa.)
Now Santa lives in Canada. It's one of the many many great things about being Canadian. But honestly, what other citizenship would he hold?! And he also answers letters. He better answer mine or I'm going to be upset. I'm going to ask for the normal adult things: payments for my student debt, nail polish, an actual grown man in my life – one who doesn't test me or play games or say "hey lets get coffee this week" and it's been three freaking weeks and I'm still sitting here coffee-less…there will be a few extra people on the naughty list this year….*trying to find my happy place*
So if you want to write to Santa, and share your response (ya'll know I'm going to!!) Letters need to be mailed by December 11th to get a reply by Christmas. I suggest getting them in earlier – especially if you live outside of Canada. Oh yes, non-Canadian friends! You too can write to Santa. I know you are running around trying to find some paper and a stamp so I'm just going to leave this right here:
Santa Claus
North Pole
HOH OHO
Canada
Parents, click these pink words for more details.
Teachers, you can also click these pink words which just happens to be the exact same link but there is a tab for teachers! If your class wants to write Santa, he will actually send your class a gift!! THATS CORRECT! A GIFT FROM SANTA TO YOUR CLASS *only if you live in Canada though* But the package needs to be mailed by December 4th.
Now if you'll excuse me: I'm going to go and organize my letter writing materials for next weekend, and try to decide where to put my advent calendar which I still need to get.