If you are a person who doesn't like gif's, maybe skip this post because this is me this morning: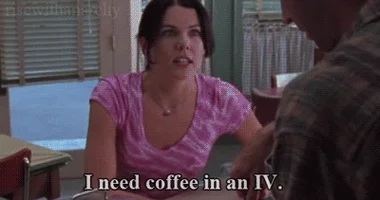 I feel like I am channelling my inner Lorelai Gilmore today.
I went to bed at a decent time last night, but my body decided to stay awake and think of happy things on my mind and then it was 2am and I am still WIDE AWAKE which means I got about 4 hours of sleep people.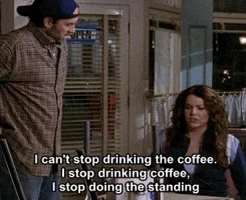 It's probably because yesterday I was super tired so before work, I made a cup of coffee. I put it into my steeped tea thermos which keeps liquids hot for the whole day and doesn't leak in my bag, and off I went. At 4pm I was still drinking my coffee. Bad choice.
I didn't want to leave you with nothing two days in a row, so here. Watch this. It's cute.
I wish this was the Lorelai I was today, instead of the "cranky, got no sleep" one.