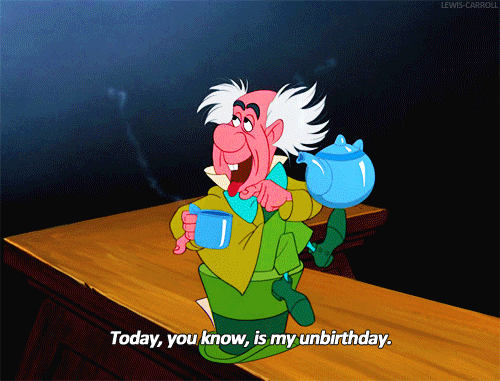 Today is my unbirthday. If you don't know what an unbirthday is, I'm sorry but we can't be friends. You can educate yourself by watching this short video or accept the consequences of me not needing that kind of negativity in my life. I shall leave it up to you. 
*whispers* are you still here? I hope so!! That was harsh. I love you!
And for many of you, it is also your unbirthday! If it's not your unbirthday, then I apologise. How sad for you! (but not really because it's your actual birthday – so happy birthday you lovely person!) But there is still room at the table if you want to sit down.
Today is a special unbirthday for me. Today I am officially 30 and one half. (for anyone trying to do the quick math in your head, my actual birthday is April 15th). For some reason, I felt it necessary to let you all know how my 30's are treating me thus far.
I made a choice last October that kind of changed my life forever. I was going to leave a job on the other side of the world, without notice, without my final pay and bonuses, and never look back. I had to look back since I reported them to some government officials but still, you get the idea. Maybe it's the one year anniversary of that choice which is prompting this reflective post – who knows?
This last year has been a year of happiness for me. Making choices to make me happy. It was about time that I focused on me. So here are some things that I did.
Started a new job – I love my job. Sure it offers very little in the way of job security, I don't get to pay down my student debt as quickly as I would like, BUT it covers my bills AND it makes me happy. I seriously love going to work every day! Not a lot of my friends can say the same thing. That's a pretty great thing.
Started dating again – and ya know what? I'm super happy I did! I had been out of relationships for so long I was hesitant to get back into it (a date here or there doesn't really count, ya know?). I had grown content in being by myself and making excuses for not seeking out someone to share it with. Not anymore sister! Sure there have been some bumps along the way, most recently with Mr Potential, but the best thing about him was that he reminded me how happy I can be in a relationship. Sure I don't need one to be happy, but it adds to life. And I miss that.
Not settling – I refuse to settle on things this year. If it's not what I want and/or need, it's not going to happen. I don't mind waiting until it fits. I have patience. Kindergarten teacher on the first day of classes level patience, bring it life! I'll just sit here and wait until it's quiet.
Going after what I want – hello hippo tattoo that I've wanted for five years and never actually had the courage to get! Wearing leggings? Heck yes!
Reconnected with church – this was kind of a shocker to me. I had drifted so far that having a desire to go each week is amazing in my life right now. When I miss a week, I feel the effects of it. I'm glad to have that reconnection and to have found an amazing church in Scarborough that I love.
So with that being said, I am actually already in church (love being able to schedule a post!), wearing my cutest headband and a rocking outfit. And today is my trip to the aquarium. I didn't realise that I had planned it for my half-birthday unbirthday, but that just makes it all the more fitting don't you think? I'll be at the aquarium around 2 and will get to spend the whole afternoon with the fishies.
Now if someone would just bring me a cupcake with a candle to blow out, I'd be super happy!
Since starting to write this post, I have been made aware that it's a fellow blogger's birthday! Ely from She Gives No Fox has her birthday today! Glad to *kind of* share the day with you darling! Now everyone head over and send her some birthday wishes!