I'm just a girl, sitting in front of her computer, wishing she didn't have to pay a parking violation….
Is there anything more annoying than having to pay a parking ticket? Last night after leaving karate with the kidlets, there was that annoying little piece of paper under one of the wipers of the mini-van that I so fearlessly rock while nannying (actually it's kind of terrifying driving that huge thing with 3 precious little kids in the back).
I have parked in this lot so many times before, but apparently, it is a "monthly pass only" lot and there goes $43. Thanks a lot, Scarbourgh…..
But the rest of the day kind of balanced out the annoyance of it all (and the following 5 minutes of 3rd and 4th telling me that I had to pay it and I better not give it to their mamma because I was driving and it's not her fault…and…I know guys – chill.)
We hadn't been to karate in about 3 weeks so I am so happy to get them there! They needed an outlet for all that energy. The last time we went, there were these two adorable little girls who were there. They usually are since their mom is in the class, but they are too young to be in it yet. I felt bad for them so I pulled out my crayons (yeah I have crayons in my bag! You never know when you will need them!) and some paper from our homework supplies and let them draw a picture. Obviously, now we are best friends forever.
As soon as we arrived, the oldest of the two (she's 5) runs to sit beside me and links her arm through mine. She spends the whole hour like that – when I cross my legs, she crosses her legs. When my foot fell asleep from sitting on it so I did some foot circles, so did she. She is so cute! When it was time to go, she kissed my shoulder like 3 times, and then gave me about 5 hugs. Each time in an excited voice, like Agnus from Despicable Me, going "I LOVE YOU!!!! SEE YOU NEXT TIME!!!"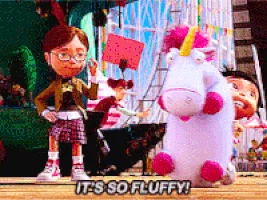 Kids, am I right?! I have no idea what her name is, but we are now friends, and we just sit in karate and talk. Sometimes all ya need is to have an hour long conversation with a 5-year old to make the world feel all right.
Fast forward to bedtime with my own kidlets. Since it was Tuesday, I usually stay late (last night being 12:30), so I get to do more of the bedtime routine than I normally would when I leave at 8:30. Which usually includes stories with 4th.
Last night, she was a little upset with me (how DARE I make her do her homework!) so she didn't want me to read her a story. But then, 3rd, bless his little heart, said he would read her a story. I gave him the book I had brought with me, and he set up a little reading nook in his room for her! *waits for the collective sigh* It was adorable! He brought in her pillow from her bed, and one of her favourite stuffies and he read her a story. Then another, and then in a super quiet voice, a third. By the time the third was started, she was drifting off on his bed and he was whisper reading and from the hall, you could hear whisper "shouting" as he did all the voices and actions from the book. It was the sweetest thing. Then, they both curled up in 3rd's bed and fell asleep together.
Yeah, I know!! I still can't get over the level of adorableness either. This is why I love my job.